How do I know if my sunscreen is
reef-safe?
May your natural deodorant be tenacious and your fridge stocked with ice-cold LaCroix because warm weather has finally arrived and so, too, has your annual reminder to make sure your sunscreen is safe for the environment.
 By now, most know better than to wear sunscreens riddled with the forbidden Os, oxybenzone and octinoxate. But what about other chemicals? And nanoparticles? The world of sunscreen is utterly perplexing, and even more so with the U.S. Food and Drug Administration's lack of regulation around "reef-safe" claims.
What better time than May—Skin Cancer Awareness Month—for a crash course in eco-friendly, nontoxic SPF?
Environmental Impacts of Chemical Sunscreen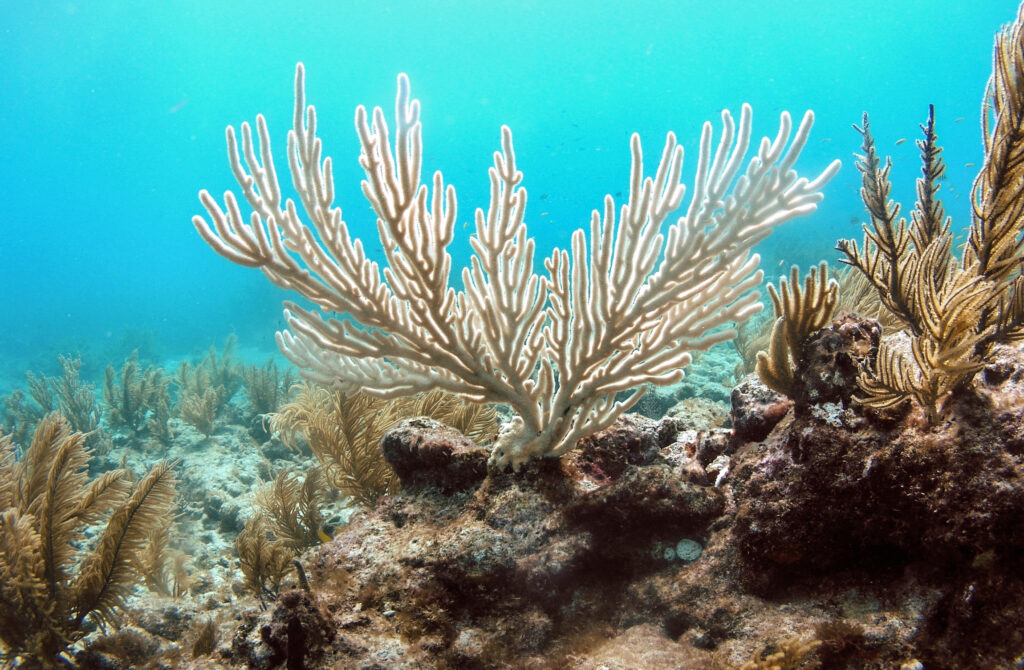 Prior to the early aughts, chemical sunscreen was the standard. So long as it absorbed into the skin, folks would slather it on themselves without reservation. It wasn't until a seminal study was published in 2008 that the environmental impacts of these sorts of absorbent chemicals became widely apparent.
The study confirmed that three UV-filtering chemicals—oxybenzone, butylparaben, and octinoxate—were causing coral reefs to bleach. By damaging the corals' DNA, these chemicals interfered with coral reproduction rates.1 They altered the toxicology of plants and algae, making reefs uninhabitable for fish and other marine life.
The National Oceanic and Atmospheric Administration says that a quarter of all marine species rely on healthy reefs, rivaling the biodiversity of tropical rainforests.2 Yet, in the U.S., 24 coral species are either endangered or threatened with extinction.3
As of 2022, more than 2,723 cosmetics and personal care products assessed by the Environmental Working Group's Skin Deep database still contained at least one of those three ingredients.
Which Sunscreens Are Healthiest for Skin?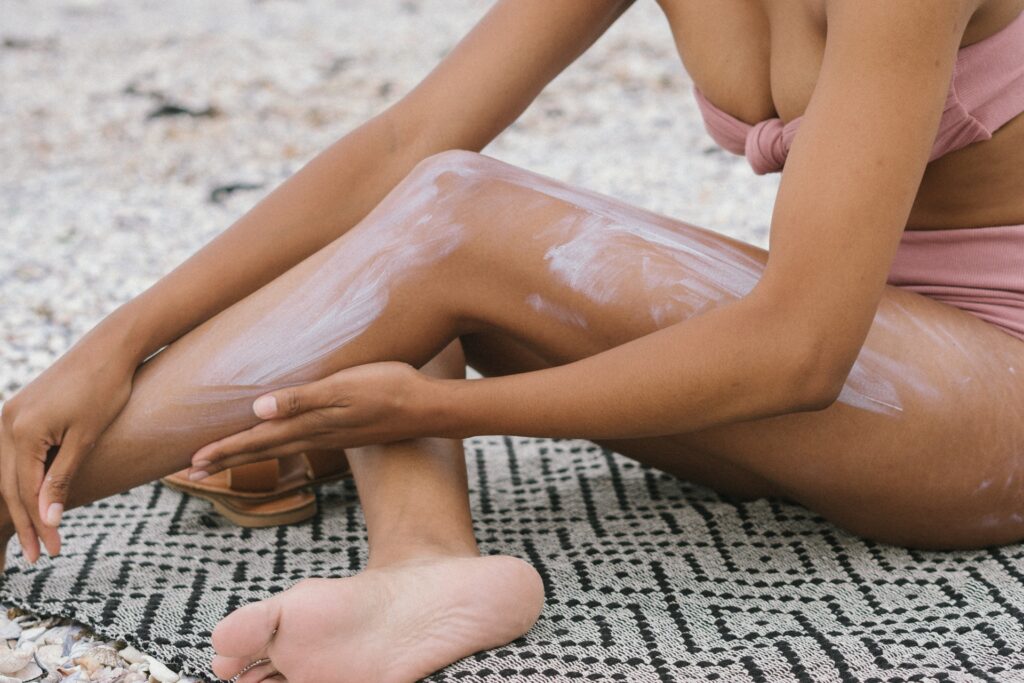 Environmental impacts aside, chemical sunscreens may also be dangerous to use on skin. In 2020, FDA research confirmed that the active chemicals in sunscreen soak into the bloodstream at higher levels than previously thought, sparking safety concerns. For now, the FDA calls chemical sunscreens safe, but testing is ongoing.4
 The American Cancer Society warns against using SPF containing oxybenzone, saying it can cause skin allergies. Some suspect that the ingredient may act as a hormone disruptor, though there's no conclusive evidence that it's unsafe for humans.5
Regardless, it's widely agreed that the healthiest (and most reef-safe) sunscreen options are physical, not chemical varieties. Whereas chemical sunscreens soak into skin and absorb UV rays, physical blockers sit on top of skin and reflect the sun. Physical sunscreens are also called mineral sunscreens because they're made of zinc oxide and/or titanium dioxide, which both occur naturally but can also be made synthetically.
Reading Sunscreen Labels
Unfortunately, deciphering what's safe for the planet and your body is only half the battle. The other half is cutting through misleading marketing language. In the U.S., the FDA regulates sunscreen under the Federal Food, Drug and Cosmetic Act, but it doesn't regulate the terms "reef-friendly" or "reef-safe."
Generally, sunscreens labeled as such do not contain oxybenzone or octinoxate, but that doesn't mean they don't contain other UV-filtering chemicals like avobenzone, homosalate, octisalate, and octocrylene. Even "mineral" sunscreens might not be 100% safe.
Mineral sunscreens may contain zinc oxide or titanium dioxide in either nano or non-nano form. Nanoparticles are so small they've sparked some debate about whether they soak into skin and damage viable cells, although the current evidence maintains that they don't. Their small size, however, has been proven to harm marine life.6
Friends of the Earth says that "when nanoparticles of titanium dioxide and zinc oxide react with UV light in water, they create hydrogen peroxide, which can stunt the growth of phytoplankton."7
Now you know: When purchasing sunscreen, make sure it's not just chemical-free but also contains only non-nano ingredients.
Reef-Safe Sunscreens (& Other Summer Necessities)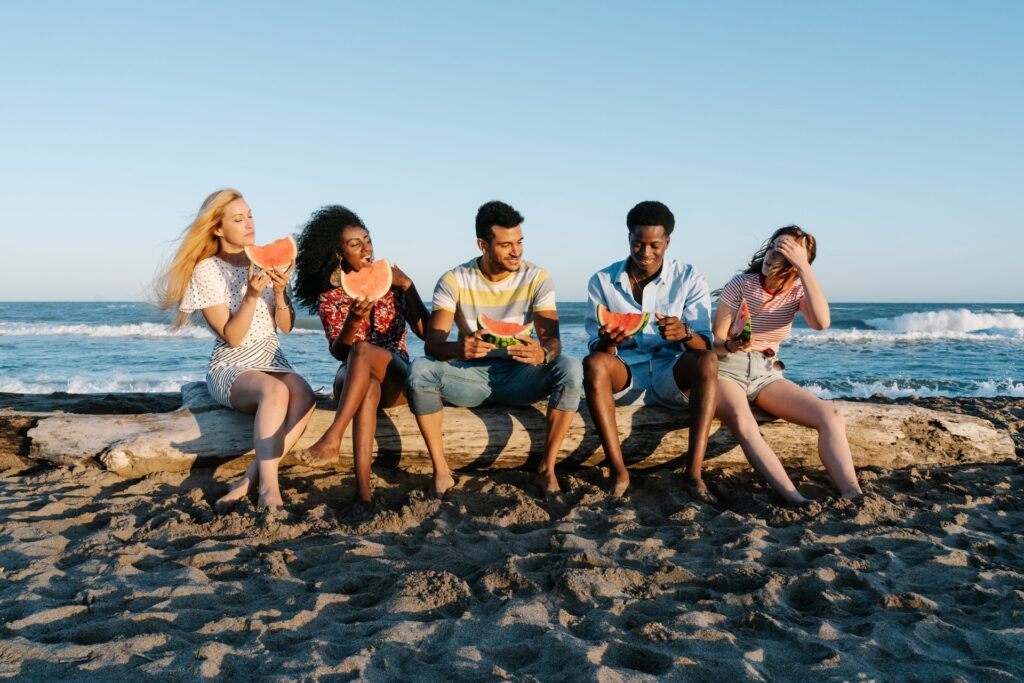 Shop Shuki-approved sunscreens and other summer accessories that are healthy for you, safe for the environment, and low waste.
Babo Botanicals Super Shield Sport Stick
This SPF 50 stick made with non-nano zinc moisturizes and protects with avocado butter, cocoa butter, jojoba seed, shea butter, and cannabis sativa seed oil. The brand also makes baby-specific sun products.
Shop on Babo Botanicals
Project Reef Mineral Sunscreen SPF 30
Project Reef combines non-nano zinc with soothing aloe, coconut, and sea buckthorn oil in its signature SPF. Each purchase helps the brand remove one pound of plastic from oceans with its partners ReSea and PlasticBank.
Shop on Project Reef
SunTegrity 5-in-1 Moisturizing Face Sunscreen Tinted SPF 30
This moisturizing facial SPF, a SunTegrity bestseller available in four shades, counteracts the chalky finish of non-nano zinc with natural tint.
Shop on Suntegrity
All Good Tinted Sunscreen SPF 30
One bad thing about mineral sunscreen is that it often leaves a white cast. To combat this problem, All Good makes a tinted version for all skin tones. Fans compare its finish to that of a BB cream.
Shop on EarthHero
Raw Elements Ocean Ramsey Sunscreen Stick SPF 30
Raw Elements is beloved for its plastic-free sunscreen tins, but this special-edition stick is named for the Hawaiian shark activist Ocean Ramsey, and its proceeds go toward marine conservation. It comes in a fully compostable tube.
Beauty by Earth Facial Sunscreen – SPF 20
This mineral non-nano zinc oxide based sunscreen is free of parabens, phthalates, nano-particles, fillers, drying ingredients, and silicones. Instead, it's packed with ingredients like organic aloe vera, jojoba seed oil, and coconut oil. 
Shop Beauty by Earth
Roeper Sunglasses
A different form of sunscreen, these sunnies are made of 100% post-consumer recycled plastic. They come in just about every color combo imaginable.
Riri Jute Straw Hat in Burnt Sienna
 And why not pair your mineral SPF with a biodegradable straw hat for added protection? There's no such thing as being too safe.
Shop on Urbankissed