What is the
safest perfume
to use?
Whether your signature scent is spicy, floral, or light and citrusy, a spritz of fragrance helps aromatize your persona. In your mind, the liquid you dab behind your ear is pressed straight from a real freesia, squeezed from the rind of a just-picked bergamot, or distilled from sandalwood freshly chipped from the tree.
And sometimes this is the case, but not always.
What's actually piquing your senses could be a blend of oft-unnamed petrochemical imposters expertly manipulated to mimic fragrances found in nature. Here's what you need to know about fragrance ingredients—the good, the bad, and the ugly—and how to pick a perfume or cologne that's both safe and environmentally friendly.
What Is Nontoxic Fragrance?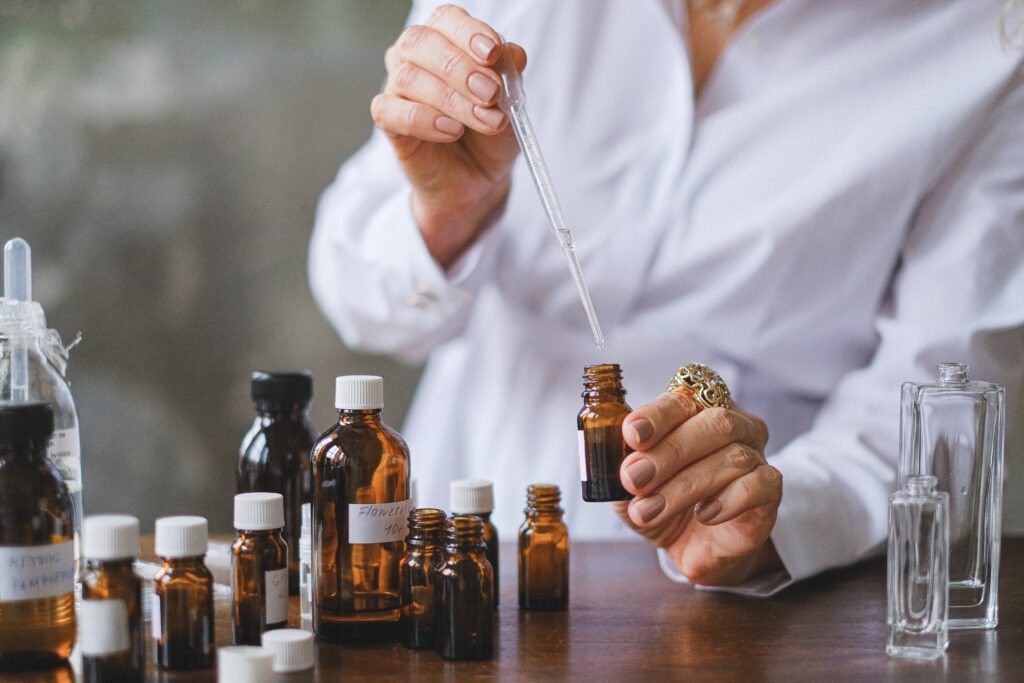 In the U.S., fragrance is regulated by the Food and Drug Administration, which famously lacks authority over chemicals in cosmetics. Fragrance producers aren't required to disclose what's in their product, and so the term itself has become a catch-all for 3,224 International Fragrance Association (IFRA)-recognized ingredients, many of them having negative impacts on human health.1
Nontoxic fragrance is fragrance that does not contain harmful synthetic chemicals, many of them petroleum-based. It is healthy, natural, and often cruelty- and allergen-free. Today's most progressive fragrance brands have replaced the petrochemicals of perfume's past with actual floral extracts, naturally derived essential oils, and other from-the-earth aromatic raw materials.
There are various methods of extraction at play here, including steam distillation (isolates and, often, essential oils), solvent extraction (absolutes), and CO2 or "sofact" extraction. All these are perfectly safe; what you want to avoid is the usual slurry of lab-developed chemicals.
Stricter Regulations on the Horizon
Since 2020, the IFRA has rolled out two new amendments to its widely observed Code of Practice, and these new amendments, its 49th and 50th since 1973, included more bans and restrictions than previous years'.2 They introduced improvements to risk assessment methodology and a more established purity requirement (meaning you're going to see a higher percentage of ingredients hailing from true, botanical sources instead of being bulked up by additives and fillers). 
They prohibited some ingredients altogether and sent perfume makers everywhere into a tizzy over having to remove verifiably unsafe chemicals from their formulations. In fact, one petition complaining about these tighter regulations obtained 2,500 signatures. Still, though, despite loose regulation at the federal level, the fragrance industry is moving toward a greener, cleaner future. 
Chemicals to Avoid in Fragrance
Part of perfume's allure is that it's largely associated with cleanliness—ironically, the aroma compounds responsible for those fresh-smelling scents are sometimes anything but.
The Environmental Working Group has analyzed most of the 3,000-some identified fragrance ingredients for its Skin Deep cosmetics database and found that one in 20 fell into "high hazard" territory because they contained toxic phthalates, octoxynols, and nonoxynols, all proven hormone disruptors.3 According to the Campaign for Safe Cosmetics, "some have evidence linking them to health effects including cancer, reproductive toxicity, allergies, and sensitivities."4
Some of the most harmful ingredients in fragrance include:
Diethyl phthalate: A sperm-damaging solvent found in 97% of fragrance formulations and an equal percentage of Americans.5
Musk ketone: A nitromusk measured in breast milk.6
Lilial: Recently classified as "reprotoxic," resulting in an E.U.-wide ban.7
Styrene: "Reasonably anticipated to be a human carcinogen."8
Benzyl acetate: Inhalation could lead to eye irritation and negative effects on the respiratory tract and central nervous system.9
Methylene chloride: Another potential human carcinogen shown to affect the skin, eyes, liver, and heart.10
Fragrance oil: Sometimes confused with naturally derived essential oils, which are concentrated plant extracts, fragrance oils are made from synthetic chemical compounds.
Shop Nontoxic Fragrance
The fragrance industry is rife with harmful ingredients. These brands are changing the game with radically natural, clean scents you can sniff freely without worrying about your health.
Wit & West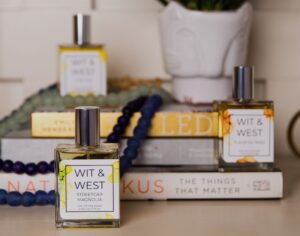 This Leaping Bunny-certified natural fragrance brand is so small-batch that it even incorporates raw ingredients from the owners' garden. USDA-certified organic grape alcohol serves as the base of Wit & West scents, including creative combinations like lavender, peppermint, and thyme (Brumaire Woods) and bitter orange and pink peppercorn (Jasmine Pet Noi).
Cultus Artem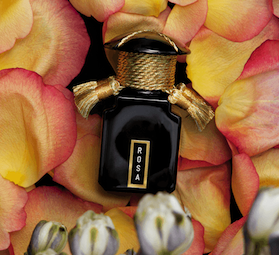 An antidote to the hippy-dippy patchouli blends historically associated with "natural fragrance," this luxury perfumery bottles up rare botanical extracts, rich musks, and fresh citrus scents into the chicest (recyclable) packaging. Everything is bottled and filled in one place, in the U.S., to prevent overstocking and reduce emissions from shipping.
Fat and the Moon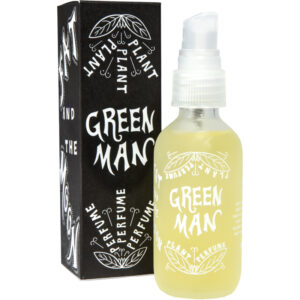 Cult-classic herbal personal care brand Fat and the Moon makes 100% plant-based and gender-neutral fragrance with just botanical extracts, a carrier oil, and organic biodynamic spirits. Products are hand-mixed in Grass Valley, California, and packaged in reusable glass bottles.
Heretic
Giving all the earthiness you'd expect from a natural fragrance, Heretic appeals to the '60s flower child in all of us with scents like Dirty Grass, Bourbon Patchouli, and Florgasm. Everything is vegan, cruelty-free, and made in small batches in Los Angeles.
Henry Rose
Michelle Pfeiffer's perfumery uses only 300 ingredients—compared to the 3,000-plus available—specially selected by Henry Rose with EWG and the Cradle to Cradle Products Innovation Institute. Bottles are 90% recycled and even sealed with soy caps. A portion of every purchase goes toward the Breast Cancer Prevention Partners for "research and advocacy around toxic chemicals in personal care."
Lavanila
Not only are Lavanila perfumes free of harsh chemicals; they're also packed with antioxidants and skin-healthy oils. All scents start with a vanilla base—hence the name—and the brand plants a tree for every purchase.
DedCool
DedCool is a genderless, waterless, carbon-neutral, vegan brand that makes its actually dead-cool fragrances in Los Angeles. If you're not sure which scent suits you, its quiz will help match you with a scent based on your Friday night activity preferences, your fashion style, and your general "vibe."
Sources