What
Toys are Safe
for Dogs
What dog doesn't love to sink its teeth into a rubber bone? A chunky braided rope, perhaps, or a plush toy shaped like a bottle of "pawtron"? Of course, you want to make sure the toys your dog spends its days chewing are actually safe for its health and the planet's. As you could probably guess, the ones made with synthetic fibers and plasticizers do not fall into that camp.
Much like dog food, dog toys can contain a multitude of toxins not safe for humans, and you should think twice before giving them to your beloved canine companion. Not only is it potentially harmful for dogs to repeatedly chew on and lick phthalate- and BPA-laced plastic, there's also the risk of choking and a whole wealth of associated environmental hazards. 
Learn why some dog toys are unsustainable and could be unsafe for dogs, and the nontoxic alternatives we recommend.
Are Your Dog's Toys Actually Safe?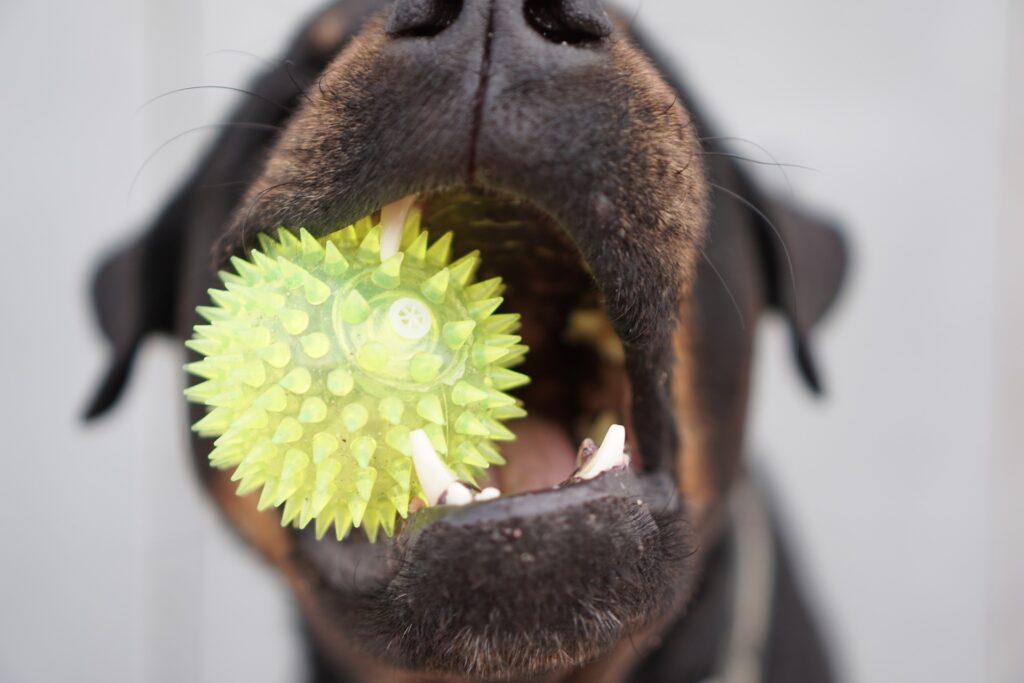 Many types of dog toys, from vinyl and latex squeaky toys to training bumpers, contain phthalates and BPA, two chemicals banned from packaging used for human food because of their endocrine-disrupting nature. These chemicals interfere with hormones and could possibly even increase cancer risk, disturb immune and nervous system function, and cause developmental malformations in humans and animals, the Environmental Protection Agency says.1
One study deduced that leaching of these chemicals worsens as a toy becomes more worn with age. The worst of the toys for phthalate and BPA leaching were bumper toys, which are often used to train puppies to retrieve.2
Soft plush toys, while they don't require added phthalates to make them pliable as hard chew toys do, aren't much better. These are made from felt wool or synthetic fibers and stuffed with something called polyester fiber fill, made from petroleum and other chemicals.
"Petroleum is a non-renewable resource and the petrochemicals industry has complicated social and political implications," says the Council of Fashion Designers of America's Materials Index. "Polyester generally has significant negative environmental impact during production, use, and disposal."3
 One of polyester's biggest impacts is its tendency to shed microplastics. These microplastics wind up polluting the air and, when washed, our oceans. If your dog is one for a stuffed toy, then you know how often these things benefit from a wash. You also know how easily they fall apart, leaving fluff spread around the house and in your dog's mouth.
The risk of choking involved with stuffed toys is a whole other problem. The ASPCA says chew toys, specifically, will slowly be worn down to the ends of the chews, "resulting in thin sections that can be broken off and swallowed."4
"Overly aggressive chewers may consume large chunks, leading to intestinal obstruction requiring surgical intervention," it says.
The Ethics of Rawhides and Bones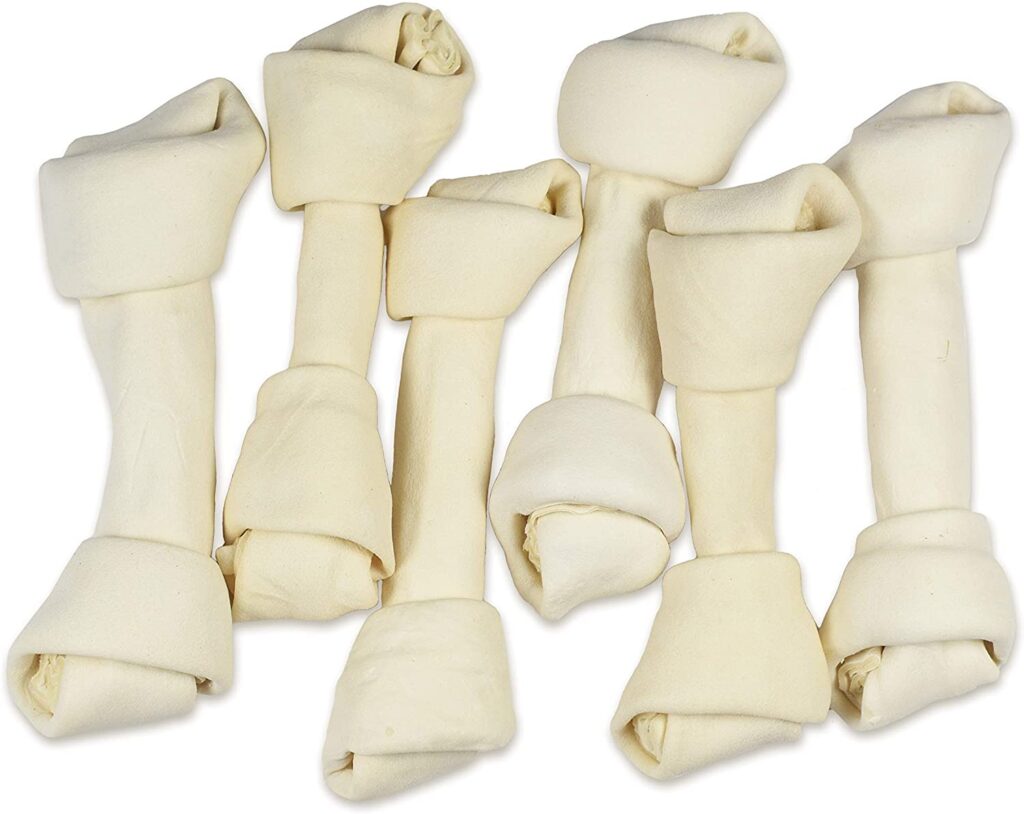 Even considering the risk of choking and phthalate exposure, the Humane Society deems rubber toys safer and more ethical than their animal-derived counterparts, rawhides and bones.
 "Many rawhides are byproducts of the cruel international fur trade," the organization says.5 In an investigation during the late '90s, the Humane Society found that these chews may come from a particularly grisly source: "The skins of brutally slaughtered dogs in Thailand are mixed with other bits of skin to produce rawhide chew toys for pet dogs. Manufacturers told investigators that these chew toys are regularly exported to and sold in U.S. stores."6
That aside, rawhide that hails from the leather-making industry is often chemically treated to make it more durable. It is sometimes even synthetically flavored and preserved with sodium benzoate, which has been linked to cancer.7
Are Dog Toys Recyclable?
Certain dog toys can be recycled, especially those made from PET #1 plastic. Look at the number inside the recycling symbol on the toy and check whether your local recycling service accepts it.
Stuffed toys are much harder to recycle because special equipment is needed for textile recycling. The American Textile Recycling Service has drop-off bins all over the country that accept soft toys like this. Of course, you should always donate toys (and beds and other supplies) that can still be used by a shelter before recycling them.
Safe and Eco-Friendly Alternatives
The best way to avoid the waste, pollution, and chemical exposure associated with conventional dog toys is to buy good-for-the-planet, good-for-your-dog alternatives from the start. This could mean swapping synthetic plushies for ones made from natural fibers like hemp, bamboo, or jute, or it could mean eschewing real animal rawhide for natural rubber (made from tree sap). Shop some safe and eco-friendly options below.
Beco Pets Recycled Polyester Toy
Eco-conscious and PETA-certified Beco Pets makes its soft toys with recycled, BPA-free polyester from plastic bottles. Through this process, the brand says it has saved more than 1.8 million bottles from landfill. Our favorite items are their Flamingo Plush Rope Dog Toy, and the rope toys made from sustainably sourced hemp.
Hudson Houndstooth Organic Cotton Rope Toy
This durable, tug-of-war-ready dog rope is made with 100% OEKO-TEX-certified organic cotton salvaged from the garment industry. It's perfectly safe for chewing, as it contains no chemicals or dyes.
Petmate Bamboo Tug Toy
Bamboo makes an ultra-durable base for this crinkly tug toy. It's unstuffed, so you don't have to worry about stray polyester filling.
Beco Pets Natural Rubber Treat Ball
The rubber used for Beco Pets' treat ball is 100% natural and BPA-free. The ball also contains rice husk and natural vanilla (for a yummy scent)—and that's simply it. It comes with a lifetime guarantee.
JoJo Modern Pets Jute Stuffed Toy
Jute is thought to be one of the most sustainable fibers out there because the plant it comes from is great for carbon absorption and soil enrichment. The fiber itself is biodegradable and recyclable. You'll want to watch your dog as it plays with this jute squirrel to make sure none of it is ingested, but you won't have to worry about exposure to petrochemicals and other toxins.
Sources: