What You Should Know About
Gold Mining
in the Amazon Rainforest
For decades, corruption in the jewelry industry has centered around the infamous blood diamond. But equally or perhaps even more destructive is the demand for a material even more ubiquitous than the precious, problematic stone—gold.
In fact, gold is used for much more than jewelry. The World Gold Council identifies four sectors of demand: jewelry, investment, central bank, and technology. Jewelry, however, is the largest sector, accounting for 53% of global demand as of 2021.1
The U.S. is the third largest consumer of gold jewelry, behind India and China.2 Gold is one of the few metals whose price has continued to rise since the early 2000s, reportedly jumping from $250 per ounce in 2002 to an all-time high of $2,100 per ounce in 2020.3 Despite economic instability caused by the coronavirus pandemic, gold is still thriving. And the process of extracting it is catastrophic to a crucial ecosystem, the Amazon rainforest.
The rising cost of the commodity "has spurred a new gold rush of artisanal and small-scale gold mining" in South America, says the Amazon Aid Foundation. The foundation's 2020 documentary "River of Gold" centers on its impact on the Peruvian Amazon, where illegal mining is a $3 billion industry.4
Here's how it's impacting the environment and the health of indigenous populations, what's being done to halt irreversible destruction of the rainforest, and what you can do.
How Is Gold Mined?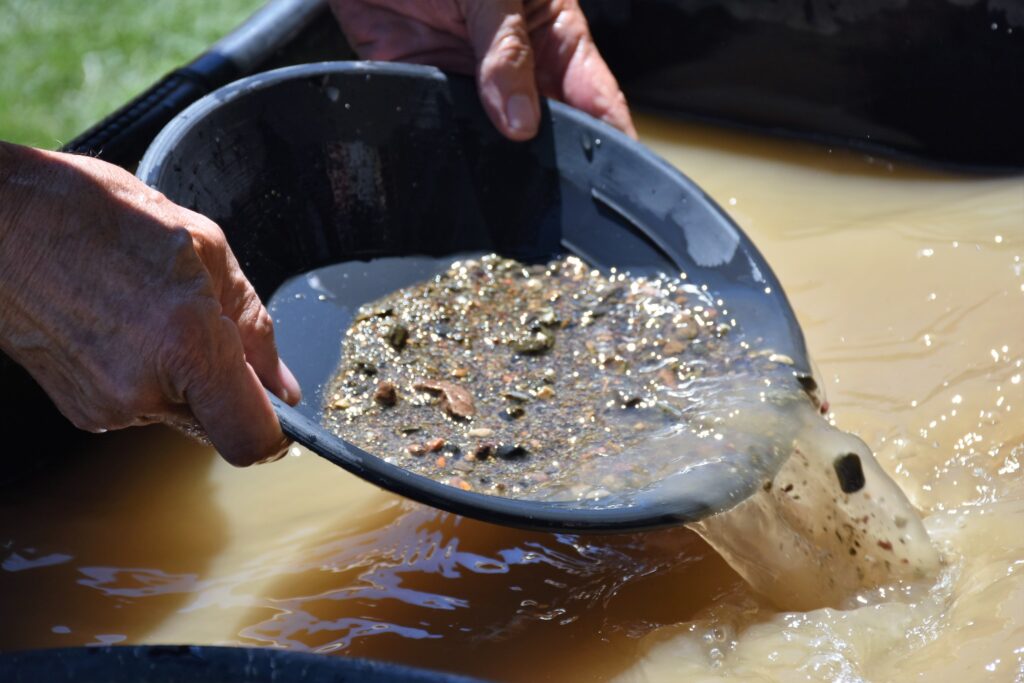 Gold is a heavy metal that scientists believe formed as a result of star collisions predating the solar system. It is now wedged deep in the layers of the earth and extracted only by water, volcanic activity, earthquakes, and mining. 
The United Nations estimates that the global gold mining industry employs 10 to 15 million people across 80 countries from Canada to Russia, China to Peru. It also estimates that the cash flow from small-scale mining alone financially supports 100 million people.5
In the Peruvian Amazon, illegal mining operations look like mud-caked camps in colossal manmade craters for which centuries-old trees, including some primary species, have been cleared. Often, gold is recovered by wetting the earth into a sludgy liquid and running it along a sluice box, a slidelike piece of equipment designed to trap gold as the water runs over it. This step is called "concentration." 
Once concentrated, ore is mixed with liquid mercury, which binds to the gold and makes it easier to find. After the gold is extracted, the rest of the mercury-laced wastewater is poured back into fresh waterways and the mercury is burned off to expose raw gold.6
Miners make the equivalent of $25 per day—almost double what the average man living in Lima makes—but they risk their lives for the job.7, 8 The number of gold miners who die in mudslides every year averages out to two to four casualties per week.7
Environmental Impact of Gold Mining in the Amazon

NASA photos that gained widespread attention in early 2021 revealed the extent to which gold mining has affected the Amazon. The photos exposed winding pits where forest had been cleared and earth had been dug in search of this coveted substance. The pits filled with muddy water, hence the name "gold rivers."
According to the 2020 documentary, it takes only 13 days for miners to clear such a crater but 300 to 500 years for the rainforest to grow back in its place. One study concluded that 4,500 square miles (or 10%) of the Amazon were lost to mining minerals including gold between 2005 and 2015.9 Yet, all that comes from 20 tons of mined earth is just one wedding ring.7
The most harmful aspect of gold mining in the Peruvian Amazon specifically is cutting down these ancient, carbon-sequestering trees. The trees in the Amazon are essential to sheltering and feeding millions of animal species. This 1.5-billion-acre oasis is home to one in 10 known plant and wildlife species on earth—a new one being found every three days, on average.10
Also described as the "heart and lungs of the planet," the Amazon rainforest's enormous amount of evaporated water forms the colossal currents of atmospheric humidity or "flying rivers" that pump water all over the world.  The Amazon provides the earth with oxygen and also a slew of medicinal plants used in mainstream pharmaceutical drugs. Perhaps its most important role, though, is storing an estimated 123 billion tons of carbon dioxide, the greenhouse gas largely associated with global warming.11 But cutting those trees down releases all that CO2 (and more) back into the ether. The United Nations Food and Agriculture Organization says burning trees accounts for almost 30% of the whole world's fossil fuel emissions.12
Mercury Pollution
The common practice of using mercury in gold recovery is immensely polluting. In fact, small-scale gold mining is the no. 1 source of mercury pollution in the world.13
When mercury-laced water is released back into natural water systems, it contaminates fish and bioaccumulates as big fish eat the smaller fish, eventually exposing people who rely on those fish for nourishment to mercury poisoning. It penetrates soil and contaminates food crops. And when it is burned off the gold in the final step of the mining process, the wind carries harmful mercury particles into nearby villages and makes the air toxic to breathe.6
Too much mercury exposure can impair motor skills and cause mood swings, neuromuscular changes, headaches, changes in nerve responses, and "poor performance on tests of mental function, the U.S. Environmental Protection Agency says.14 In rural Peru, the villages most affected by mercury pollution are usually inhabited by vulnerable indigenous populations.
For every four people tested in Madre de Dios, the region of Peru documented in "River of Gold," three had toxic levels of the element (sometimes more than 30 times the limit) in their systems.7 
Can Gold Be Sustainable?
The ethical standards of gold mining are notoriously murky, and you can pretty much forget about supply chain transparency when you purchase gold from conventional jewelers. The Amazon Aid Foundation, however, is making strides to clean up the industry.
The organization has established an "alliance of consumers, scientists, artists, educators, indigenous communities, NGOs, and companies from the gold sector" to raise awareness of and promote solutions for illegal gold mining. The Cleaner Gold Network, as it's called, seeks to reform policy and make the gold supply chain more responsible and easier for consumers to follow.
As a consumer, it's important to buy ethical gold only—that is, gold that meets international environmental and social standards. In addition to legal and low-impact mining, it means no harmful chemicals, good labor conditions, fair pay, and transparency.
Hahku, which means "let's go" in Kichwa, is an organization dedicated to promoting sustainable development projects in league with small indigenous communities within the Ecuadorian Amazon. Their collection features jewelry and totes handmade by more than 200 indigenous women across 3 provinces in the Ecuadorian Amazon.
Amalena is one brand that works with local Colombian women to source "Eco-Gold," which is fair mined, fair traded, and fair priced. 
Otherwise, consider buying gold alternatives, like recycled silver or brass, which is often made from scrap brass and copper and can be recycled many times over.
Here are some more sustainable jewelry options.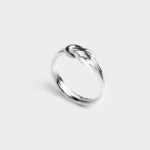 On sale for $25, down from $55
This classic knot ring is made of 100% silver and handcrafted in Brooklyn. SiiZU "only partners with manufacturers who are qualified under the ISO 14001 standard, an internationally recognized environmental standard that indicates efficient energy use and limited waste output."


Tiana Marie Combes Glass Sicilia Ring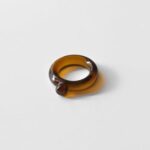 $130, available at LCD
Glass is a great alternative to gold, and LA-based artist Tiana Marie Combes uses Italian glass and recycled metals so well to create delicate and responsibly produced jewelry like this chestnut-colored ring.



Abby Alley Sarah Brass Cuff Bracelet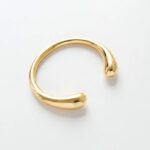 $62, available at Ash & Rose
Brass gives off the same kind of bold shine as gold, but it's generally more sustainable. The bags and jewelry sold by Chicago brand Abby Alley are handcrafted under fair labor practices in East Africa.
---
Sources: 
"

Demand for gold worldwide from 1st quarter of 2016 to 3rd quarter of 2021, by purpose

."

Statista

. 2021.

 

"

Geographical diversity

."

World Gold Council

. 

"

20 Year Gold Price History in US Dollars per Ounce."

Goldprice

. Accessed December 2021.

"

The Nexus of Illegal Gold Mining and Human Trafficking in Gold Supply Chains: Lessons from Latin America

."

Verité

. 2016.

"

Going for gold: can small-scale mines be mercury free?"

United Nations Environment Programme

. 2018.

Charlie Espinosa. Amazon Aid Foundation. 

 

"

River of Gold

."

Amazon Aid Foundation

. 2020.

"

Average monthly income in Lima, Peru as of April 2021, by gender

."

Statista

. 2021.

Sonter, Laura, Diego Herrera, Damian Barrett, and Gillian Galford. "

Mining drives extensive deforestation in the Brazilian Amazon

."

Nature Communications

. 2017.

 

"

What animals live in the Amazon? And 8 other Amazon facts

."

World Wildlife Fund

. 

"

Deforestation, warming flip part of Amazon forest from carbon sink to source

."

NOAA Research News

. 2021.

"

Forests and climate change: Carbon and the greenhouse effect

."

United Nations Food and Agriculture Organization

. 

"

The Mercury Problem in Artisanal and Small-Scale Gold Mining

."

Chemistry (Weinheim an Der Bergstrasse, Germany)

. 2018.

"

Health Effects of Exposures to Mercury

."

United States Environmental Protection Age