How do you make a
Swimsuit Sustainable?
If swimwear were made of the materials we consider to be the most sustainable—wool and linen, for example—it would absorb every bit of sweat, pick up every granule of sand, and sag unflatteringly with the weight of being wet. Many natural fibers simply aren't suitable for swimming (seriously, imagine a bikini made of wool), and so most of today's swimwear is made from plastic instead.
Spandex, polyester, and nylon have long been the most common materials used to make swimsuits. The problem with these is that they're made from petroleum. Their carbon footprint spans from the drilling of oil to plastic pollution in landfills—the latter made worse by the new-suit-every-season culture many swimwear brands push.
According to one 2017 study of 528 women in the U.S., 34% purchased at least one swimsuit per year, 23% purchased at least one every two years, 7% every six months, and 2%—about 10 women—purchased one every month.1
Want to reduce the impact your swimwear has on the planet? Buy less but better, and by "better," we mean swimwear made sustainably with low-impact, designed-to-last materials.
What Is Sustainable Swimwear?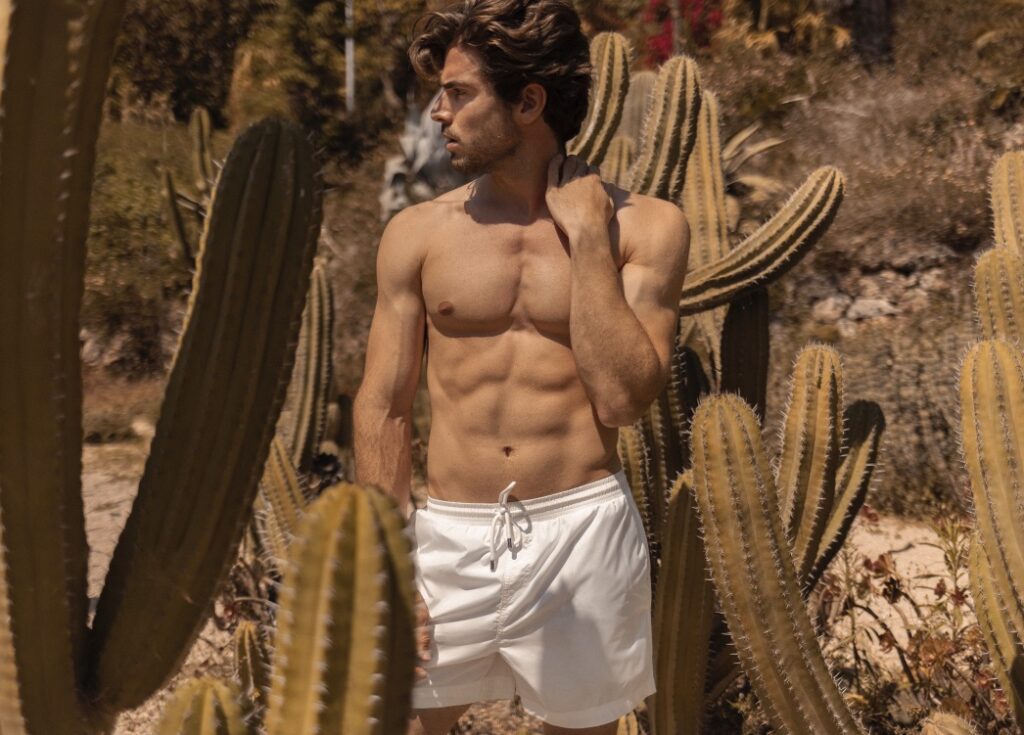 Swimwear deemed "sustainable" typically falls into one of two camps: swimwear made of natural fibers and swimwear made of recycled materials. Recycled swimwear is certainly the leading choice given the absorbent nature of natural fibers. That said, there are a growing number of swimwear brands cutting 'kinis and trunks out of organic cotton, hemp, and linen.
 It should be known, however, that natural materials are often blended with elastane (to make them stretchy and better at maintaining shape) or at least come with a synthetic lining. In order for it to be truly lower-impact, synthetics used in swimwear should be recycled.
Recycled swimwear is made from old plastic bottles, other swimwear, and often fishnets and other trash recovered from oceans. When buying recycled swimwear, look at the percentage of recycled materials the garment contains (ideally, it would be 100%). Look also for the source of the materials. REPREVE is a common recycled polyester fiber made from bottles, clothing, and industrial materials. ECONYL is a recycled nylon made from recovered marine debris. The latter can be recycled over and over.
Recycled Swimwear and Microplastics
One of the biggest drawbacks of synthetic swimwear is the microplastic it sheds. Studies show that 84% of fibers shed come from cut edges—and swimwear is pretty much only cut edges.2 While recycled swimwear prevents virgin materials from being made and saves a load of plastic from landfills, it still sheds these tiny particles of plastic, of which there are an estimated 24.4 trillion just in the world's upper oceans.3
What's more, harsh ultraviolet rays can actually damage the structure of synthetic materials, making them even more prone to breakage and likely to be fast-tracked to the landfill.4
ECONYL manufacturer Aquafil has partnered with the Italian research center CNR-STIIMA on a three-year research project aimed to develop a "standardized method to measure the quantities of microfibers in our waters and analyze them," with hopes of eventually reducing its own contribution.5 Another thing that can help, researchers at the Swiss Federal Laboratories for Materials Science and Technology have found, is cutting with a laser, which seals edges unlike cutting with scissors.2
In any case, an estimated 35% of microplastics come from laundering, and the European Environment Agency says most microplastic shedding comes from the first few washes.6 You can reduce the amount of microplastic you shed by using a washing bag designed to catch microwaste and by simply buying swimwear less often, therefore reducing the number of times you wash a garment for the first time.
Shop Sustainable Swimwear
 Here are Shuki's top picks for sustainable swimwear, featuring a mix of recycled and natural materials.
Lilja the Label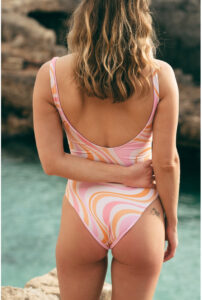 New styles bearing this Finnish-founded, Bali-made swimwear and activewear brand's label are made with REPREVE and ECONYL, and material breakdowns can be found on each product. Transparency is a priority for this brand. Its clothes are made in a small family-run factory that employs just 36 people, so no sweat shop vibes here.
Shop Lilja
Marda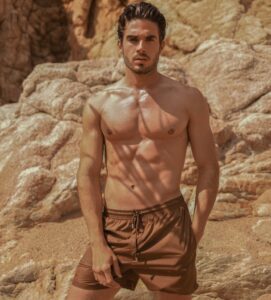 Marda makes swim shorts from 100% recycled PET plastic, which uses 70% less energy and produces 54% fewer emissions than if they were made from virgin plastic, the brand says. One pair is equivalent to about seven plastic bottles saved from the landfill.
Kōraru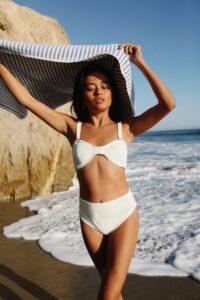 You'll find that most of Kōraru's beautifully simple swimwear styles are made from recycled ECONYL (exact percentages are provided but may vary by product). As a bonus, the brand says its packaging materials are "100% recyclable, and wherever possible reusable energy and water-saving processes are applied in making them."

FARM Rio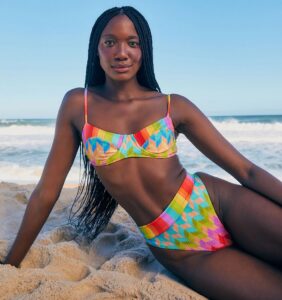 FARM Rio uses a biodegradable nylon alternative called AMNI Soul Eco thread and Global Recycled Standard-certified recycled polyester. The brand's swimwear sparks joy with bright colors and nature-inspired patterns. Every purchase is a tree planted. 

Peony Swimwear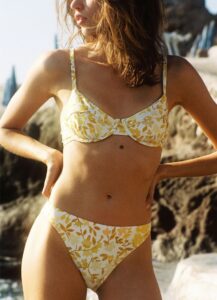 Peony swimsuits' lining is made of 90% REPREVE, and the main fabric is mostly ECONYL (percentages vary by product and can be found on the website). Acknowledging the many microparticles shed by synthetic materials, the brand encourages its customers to "limit washing until completely necessary."
Vitamin A Swim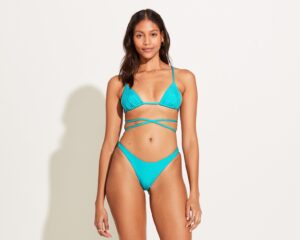 Vitamin A swimwear is made from BioSculpt, a nylon alternative made from castor beans. As much as possible is produced in California rather than abroad, which reduces emissions from transportation. For products that can't be made in California, the brand partners with "fair trade artisans to produce [its] materials ethically, providing women with fair-wage jobs in safe working conditions."
Girlfriend Collective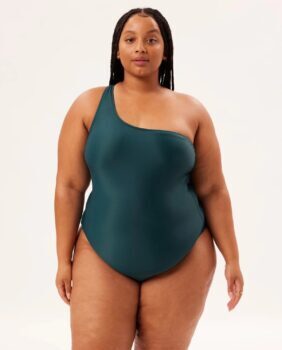 Widely adored activewear brand Girlfriend Collective uses ECONYL in its always on-trend, always size-inclusive swimwear. The exact makeup (down to the percent of regenerated materials) is front and center and, better yet, each product comes with its own little sustainability report revealing oil conserved, CO2 prevented, and energy saved.
Outerknown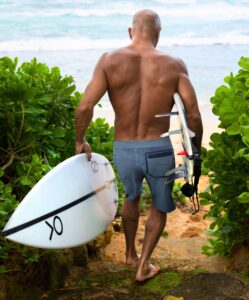 This Fair Trade-certified brand (founded by pro surfer Kelly Slater) is wholly rooted in sustainability, even offering a platform for used styles called Outerworn (and yes, it includes swimwear). All new swim styles are made of mostly recycled materials. Outerknown aims to make 100% of its products circular by 2030.


Patagonia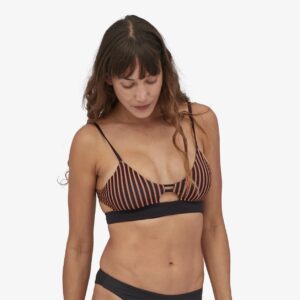 The specs for Patagonia swimwear are as follows: 83% recycled polyester and 17% spandex for prints or 83% recycled nylon and 17% spandex for solids. According to the outdoor brand, 87% of the line is Fair Trade-certified sewn.
Sources: