What You Should Know About
Laundry
and Its Environmental Impact
The environmental impact of laundry ranges from the energy used to wash and dry clothes to chemical detergents to microplastic pollution. Fashion Revolution says 25% of each garment's total carbon footprint comes just from the way it's washed and cared for. The organization also says 90% of clothing is thrown out prematurely on account of overly harsh laundering.1
The good news? There are so many ways to make your laundry routine greener—and there are just as many innovative products and brands out there dedicated to making the transition seamless.
Here are seven easy ways (plus a wealth of cool products) to make your laundry routine eco-friendly.
1. Switch to Nontoxic Detergents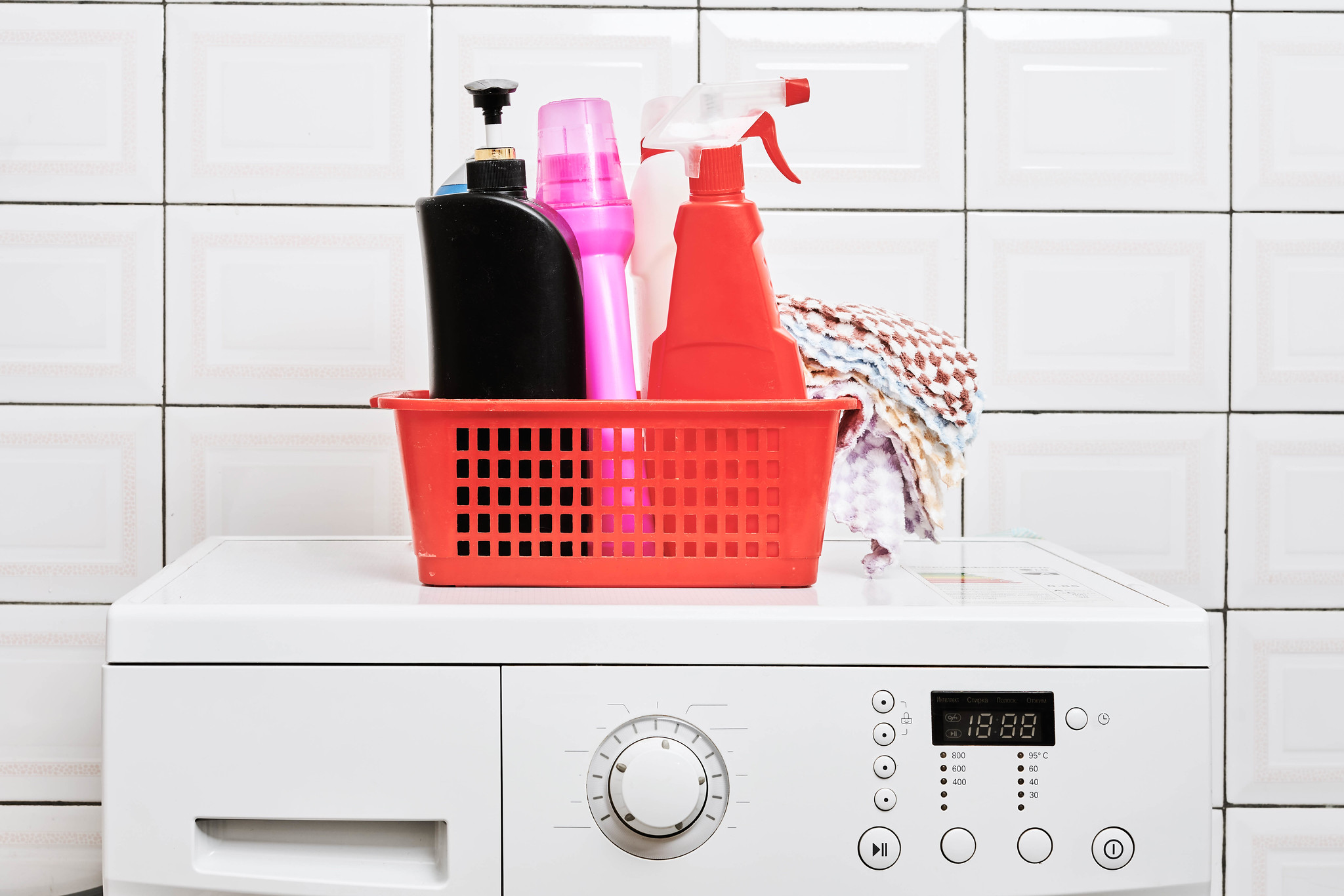 In the Environmental Working Group's Guide to Healthy Cleaning, 30.4% of the 424 laundry detergents tested scored an F for containing concerning chemicals, including—surprisingly—the Whole Foods brand 365 Everyday Value. Another 26.6% scored a D.2
Conventional detergents, softeners, and dryer sheets are riddled with phosphates, formaldehyde, chlorine bleach, sulphates, benzene, and synthetic fragrances. Studies say detergents cause 20% to 60% of phosphorous buildup in waterways and can cause eutrophication (resulting in harmful algal blooms).3 Many of the ingredients have also been identified as human carcinogens.4
With these issues increasingly coming to light, countless nontoxic detergent options have sprung up, including one of the most popular: Tru Earth Eco-Strips. An alternative to pod and liquid detergents, Tru Earth's beloved strips come in feather-light, compostable packs of 32 foamy sheets that dissolve in both hot and cold water.
Of course, there are myriad other laundry detergent strips on the market, as well as eco-friendly detergent pods and plant-based fabric softeners. Many "clean" laundry products come unscented, considering how toxic chemical fragrances can be, but you can add your own scent by adding 20 to 30 drops of your favorite essential oils after the washing machine fills.
2. Go Zero (or Low) Waste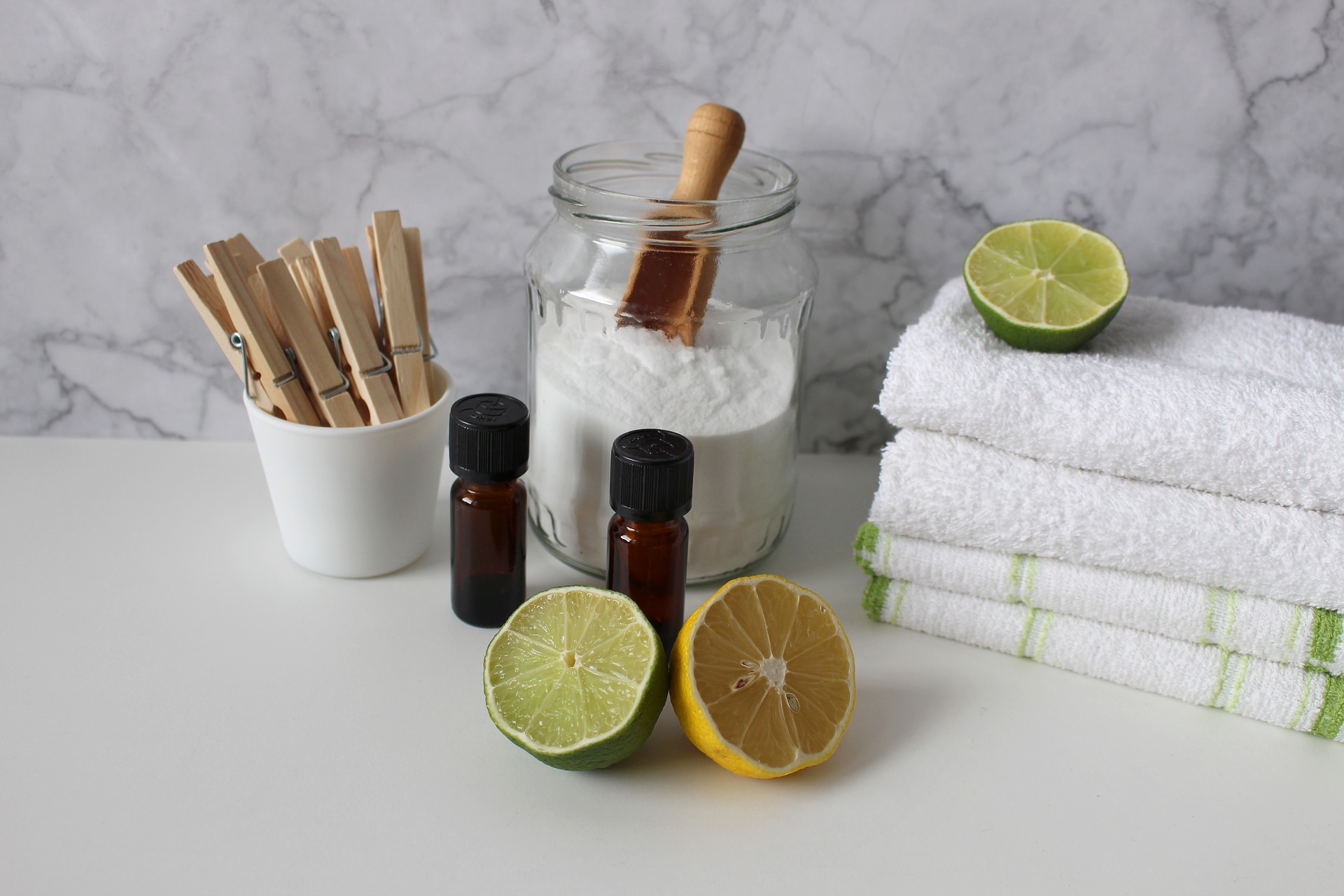 Exactly how many plastic laundry detergent jugs are thrown away in the U.S. every year is unclear, but many estimate the range to be 700 to 900 million.5 Less than a third of them are recycled.
Plastic waste is a major issue created by laundry products. Most liquid detergents are packaged in high-density polyethylene (HPDE) containers that emit sulphur oxides, carbon dioxide, hydrocarbons, and more during the manufacturing process and take up to 500 years to break down in landfills.6
The problem can be avoided altogether by purchasing refillable laundry detergent, which comes in liquid and powder form. Simply refill your bottles at your local zero-waste shop or order refills online. Liquid formulas come in single-waste plastic but are much less material-intensive than traditional detergents. Meliora's powder iteration comes in tubs as large as 40 pounds, good for 1,250 loads of laundry. These refills come in compostable and recyclable paper bags.
Other low-waste, plastic-free products include stain sticks and bars of concentrated laundry "paste."
3. Protect Delicates to Make Them Last
In a 2017 survey of 1,029 Americans, 77% said they purchased at least six items of underwear over the year prior. Twenty-one percent said they purchased more than 15 items. The survey shows just how quickly people cycle through undergarments.
Unlike other clothing, intimate items aren't widely accepted by donation programs or passed down to be worn secondhand for sanitation reasons. Most often, agitation from the washing machine causes them to degrade rapidly. To make matters worse, scientists say the "delicate" cycle, designed to mimic handwashing, releases 800,000 more microfibers than a standard wash cycle. It also uses twice the water.7
It's important to buy quality undergarments rather than cheap multipacks whenever possible. Then, to prolong their lifespans without contributing an excess of microplastic, wash them with your other clothing in a small mesh bag to reduce agitation.
4. Wash on Cold

According to Cold Water Saves, a campaign by the American Cleaning Institute and The Sustainability Consortium, washing clothes on a cold/cold wash/rinse setting is nine times more energy efficient than washing on a hot/cold setting and 15 times more energy efficient than a hot/warm setting.8
The campaign also says 90% of the energy used for clothes washing in hot or warm water is used just to heat the water. Plus, heat breaks down the fibers of the garments, causes them to shrink and colors to fade and bleed. Cold-water washes extend the life of your clothing and will do just as good of a job getting it clean.
In addition to turning the temperature down on your wash cycle, consider washing your clothes less often. This is easy to do with items that don't get very dirty, such as jeans, jackets, and cold-weather accessories.
5. Cut Back on Drying Time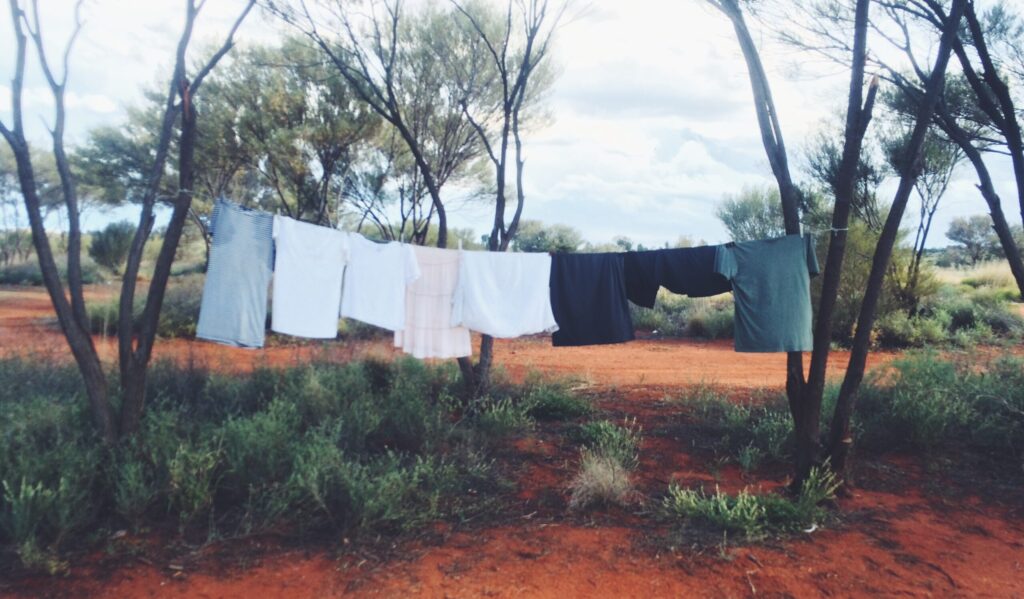 The average tumble dryer uses about four kilowatt-hours per cycle, or roughly the same as a hot/warm wash cycle.9 The most environmentally friendly way to dry your garments is on a drying rack or clothesline in the fresh air. When using a tumble dryer is necessary, however, it's best to dry on a low heat setting and in small batches. The bigger the load, the longer it'll take to dry.
Another way to reduce drying time: dryer balls. Although not verified, brands selling these clever devices say they could cut drying time by as much as 25%. Dryer balls are usually made from sheep's wool, and you can find a cruelty-free option in the dryer balls by Friendsheep. Otherwise, there are alpaca dryer balls which are handmade and hypoallergenic.
6. Tackle Microplastic Pollution
More than a third of the primary microplastics found in oceans today come from clothing. A single wash, says Fashion Revolution, can send 700,000 synthetic fibers into rivers and other waterways.10 Nanoplastics are believed to be an equally bad or worse problem—seeing as they're even more toxic than microplastics—but these smaller particles are impossible to measure because they can't be separated from the environment.11
You can cut down on your personal microplastic contribution just by adding a small microfiber-catching laundry ball to your wash. The Cora Ball, made entirely of recycled plastic, traps small threads and particles in its "spindles." Afterward, you simply pick out the fibers and dispose of them in the trash. Alternatively, you could wash clothes in bags that reduce friction and catch particles or install a special microfiber filter on your home washing machine, reducing microplastic pollution by up to 90%.
7. Care for Clothes Between Washes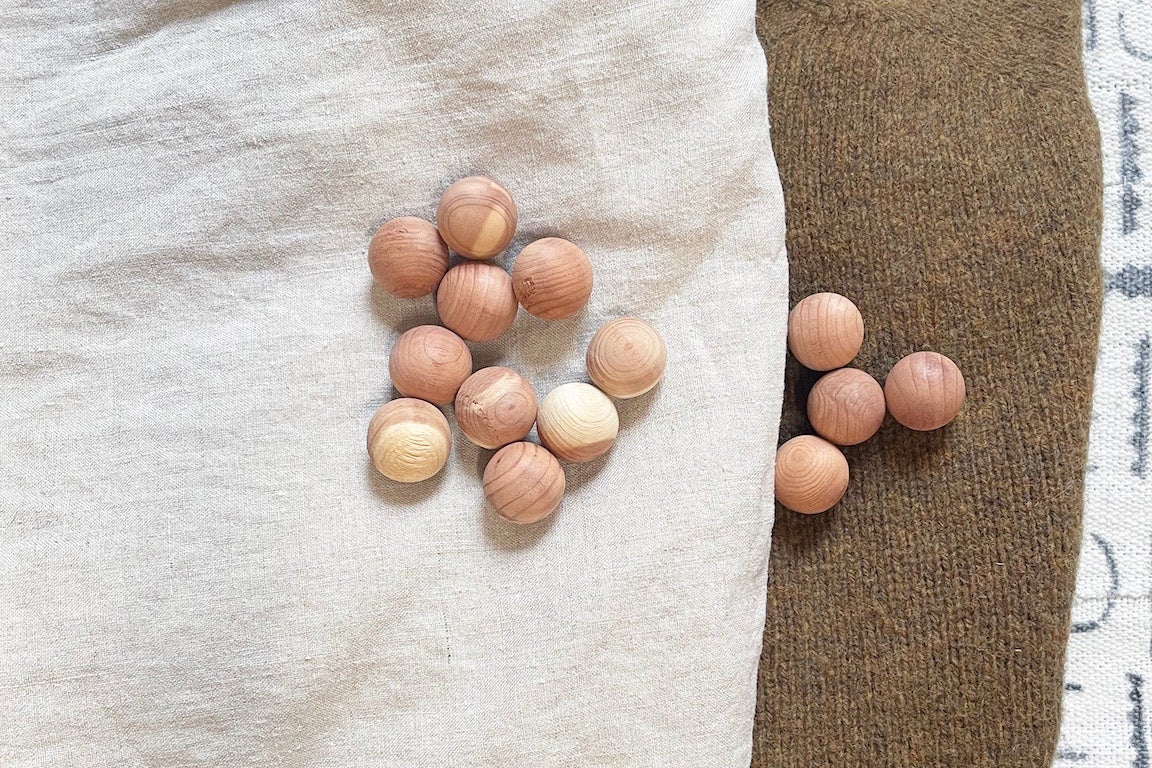 One of the most effective ways to maintain a planet-friendly wardrobe is to care for your clothes between washes so they last longer. Start with switching to a natural deodorant that doesn't contain aluminum, the ingredient largely to blame for underarm staining.12 Kosas' cult-favorite Chemistry Deodorant says "stain-free" right in the description. For a more budget friendly and plastic free option, we also like No Tox Life's underarm detox.  
Next, discourage pests from making nests in your wardrobe with sustainably sourced cedar balls, long thought to have insect repellent qualities. Instead of using a chemical-based fabric refresher, revive your garments with diluted essential oils or a biodegradable spray like Common Good's linen water.
When possible, purchase quality clothes made from sustainable fabrics instead of fast fashion. Although 25% of a garment's climate impact might come from the way it's cared for, at least half comes from the way it's produced.
---
Eco-Friendly Laundry Essentials:
Sources: 
"Don't Overwash: It's time to change the way we care." Fashion Revolution.
"Guide to Healthy Cleaning: Laundry Detergent, HE." Environmental Working Group.
Allen, Jennifer, Jacqueline Carless, Heidi Aubrey, Alice Shopland, and Women's Environmental Network "Clean Clothes, Dirty Water: The Environmental Impact of Laundry Detergents." 1993.
"Scented laundry products emit hazardous chemicals through dryer vents." University of Washington. 2011.
"Mind Your Plastic May." Asheville GreenWorks. 2019.
Chamas, Ali, et al. "Degradation Rates of Plastics in the Environment." ACS Sustainable Chemistry & Engineering. 2020.
"Ditch the delicate wash cycle to save our seas." Newcastle University. 2019.
"Washing Laundry in Cold Water Protects a Lot More Than Just Our Clothing." Cold Water Saves.
"How Much Energy Does My Dryer Use?" Direct Energy.
"Our clothes shed microfibres — here's what we can do." Fashion Revolution.
Yin, Kai, et al. "A comparative review of microplastics and nanoplastics: Toxicity hazards on digestive, reproductive and nervous system." Science of the Total Environment.
Tufan, H. Acikgoz, I. Gocek, U. K. Sahin, and I. Erdem. "A novel washing algorithm for underarm stain removal." 17th World Textile Conference. 201