How do you
Clean a House Naturally?
The omnipresent "green" and "eco-friendly" claims that grace labels of household cleaning products today beckon major questioning—namely: Do they work, and how "eco-friendly" are they really?
The answers vary widely. There is so little regulation in the industry that a product literally called Simple Green—one that touts itself as "nontoxic" and "biodegradable," even—has been ranked among the most hazardous in the Environmental Working Group's Hall of Shame. So, how is one to know what's actually safe?
Here's how to clean your house without chemicals, including the best products to use and some quick and easy concoctions to make at home.
Tips for Choosing Eco-Friendly Cleaning Products
Although you can't always trust a label, you can usually trust an ingredients list—especially one that contains familiar words like "vinegar," "lemon," and "baking soda." Indeed, the creme de la creme of green cleaning supplies harken back to the old faithful recipes of your granny's day.
When shopping for environmentally friendly cleaning products, look for the EWG Verified badge certifying that a product is free from the "chemicals of concern" that fill 652 pages of its Unacceptable List. So far, only 33 products have earned this mark.
Another credible seal to look for is the U.S. Environmental Protection Agency's Safer Choice, a less stringent assessment program that thousands of products have passed.
In addition to a product's contents, consider its carbon footprint. Concentrated formulas are a great option because they last longer (meaning less waste from packaging) and are lighter to ship.
Products for the Kitchen
Attitude Nature+ Dishwashing Liquid
Attitude is one of the greenest cleaning brands out there, always meeting EWG's strict standards. This cruelty-free dish soap cleans with the plant-derived organic chemical saponin, an antibacterial found on quinoa seeds.
Blueland Dishwasher Tablets
Whereas the standard dishwasher pod consists of synthetic cleaning agents wrapped in a water-soluble layer of plastic, Blueland's dishwasher tablets are made entirely of naturally derived ingredients.
Earthy Edith's Power Scour Cleaning Scrub
Although not EWG-certified, Earthy Edith's scrub is 100% safe to use on grease- and grime-caked kitchen surfaces. It's made (in a low-waste facility) of just baking soda and peppermint and tea tree essential oils.
Products for the Bathroom
AspenClean Bathroom Cleaner
AspenClean goes the extra mile to clarify where exactly the mysterious ingredients in its bathroom cleaner come from. (Most of them come from coconut palms, if you're wondering.) Use this lavender and lime-scented spray for sinks, toilets, showers, or any other bathroom surface.
AspenClean Floor Cleaner Concentrate
AspenClean's concentrated floor cleaner formula is plant-derived, biodegradable, and chemical-free. Best of all, a bottle lasts virtually forever given the recommended amount is two tablespoons per use. Just mix it with 22 ounces of water and use on ceramic, laminate, or hardwood.
ECOS Glass Cleaner
Safer Choice-certified ECOS glass cleaner contains four ingredients: water, a plant-derived solvent, a plant-derived surfactant, and vinegar. The acid in vinegar helps it dissolve water marks, therefore eliminating annoying streaks. 
Eco-Friendly Laundry Products
Dirty Labs Free & Clear Bio Laundry Detergent
Despite its name, Dirty Labs could hardly be made with cleaner contents. The brand's signature Free & Clear laundry detergent is made without all California Prop 65 chemicals and E.U.-listed fragrance allergens. It's EWG- and Safer Choice-certified and recognized as hypoallergenic by the National Eczema Association. 
Frey Detergent Sheets
Cut down on emissions from transportation by switching to laundry detergent in sheet—not liquid—form. These biodegradable, naturally-derived dissolving detergent strips are entirely plastic-free.
Meliora Stain Stick
Meliora's handy MADE SAFE-certified soap stick uses the power of super-concentrated saponified coconut oil for stain removal—no synthetic fragrance included. Making it even more eco-friendly, it comes in a recyclable cardboard tube. 
Multi-Purpose Cleaners
Force of Nature
The technology behind Force of Nature's signature all-purpose cleaning solution is called "electrolyzed water;" it's also used to heal wounds and preserve produce, the brand says. Essentially, it turns salt, water, and vinegar into a solution that kills 99% of germs.
Clean Republic
Clean Republic also uses a high-tech method to turn salt and water into hypochlorous acid (HOCI), an "infection-fighting compound" that's found in the human body but can be replicated "by running an electrical charge through a combination of salt and water."
Make Your Own Cleaning Products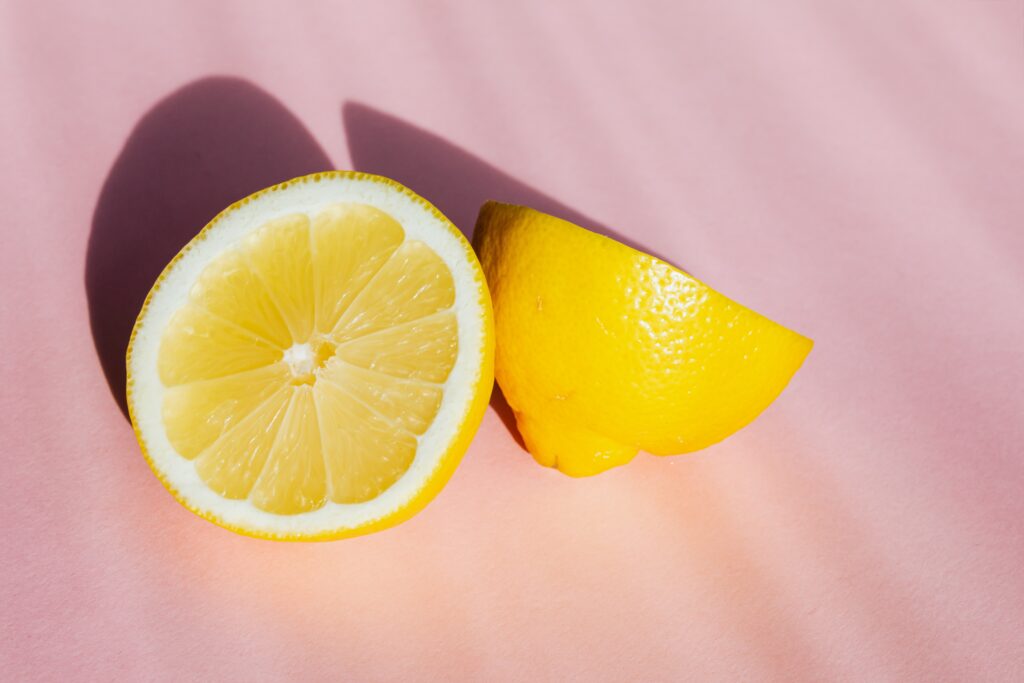 DIY cleaning solutions allow you to control exactly what's in your products and reduce your waste while you're at it. Here are three multi-purpose mixtures for you to whip up with common, no-frills ingredients. 
Basic Vinegar and Lemon All-Purpose Cleaner
Dilute white vinegar with equal parts water and drop in the rind of a lemon for a fresh-smelling spray. Let it sit for days for a stronger scent. Use it on anything but porous surfaces (because of the high acidity).
Deep-Cleaning Bathroom Scrub
Baking soda works wonders for cutting through bathroom scum. Mix a cup and a half of it with a half cup of warm water, a half cup of castile soap, and two tablespoons of vinegar, then scrub.
Deodorizing Oven Cleaner
Make a paste of castile soap, baking soda, coarse salt, and vinegar, then add up to four drops apiece of your essential oil of choice (lavender, vanilla, or citrus scents work well), apply the paste to your oven and let sit overnight before scrubbing.