What should be in a
Natural Medicine Cabinet?
It doesn't matter how serious you are about green living; if a knife were to slip onto your thumb while chopping you probably wouldn't think twice before reaching for the Neosporin.
Neosporin, specifically, is a Molotov cocktail of chemicals like neomycin sulfate, which the National Library of Medicine says can cause "kidney problems and hearing difficulty" when absorbed into the body through topical application.1 Countless nonprescription drugs come with this caveat—of the 300,000-plus products that make up the U.S.'s over-the-counter market, many contain ingredients that haven't even been evaluated by the Food and Drug Administration.2, 3
"The regulatory framework for FDA oversight of most over-the-counter products was put into place in 1972 and has not been updated, despite an increasingly diverse and large market," The Pew Charitable Trusts says. "It is unable to respond quickly to safety concerns and keep pace with scientific discovery, which places consumers at risk and slows the development of new drugs."
The Rise of Natural 'Medicine'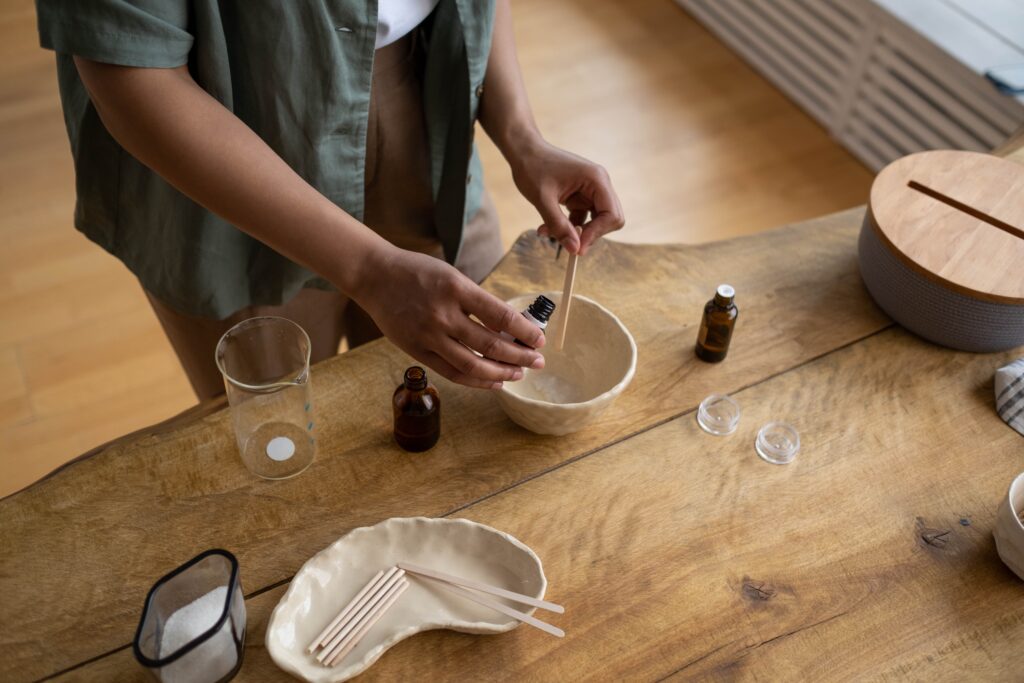 As the problems associated with nonprescription drugs slowly make their way into public knowledge, alternative medicine is becoming less "alternative." The holistic approach is no longer consigned to hippies and pharmacophobes. And it is not always seen as the antithesis of science, either.
In fact, science backs the efficacy of "herbal drugs," one such study saying they "have advantageous effects on long-term fitness and can be used to efficiently treat human diseases or disorders."4
 Alternative medicines are generally cheaper, often more environmentally friendly to produce, less toxic, and relatively easy to access. About 80% of the global population uses them.5
Here are 12 nontoxic and environmentally conscious products to add to your first aid kit or medicine cabinet.
Pain Relief
Badger Headache Soother Aromatherapy Stick
While aromatherapy may not be strong enough to stand up against migraines and other chronic headache conditions, the lavender, peppermint, eucalyptus, citrus, and sandalwood blend in this soothing scent stick have been clinically proven to at least reduce headache severity.6
Vedic Botanicals Skin Soothe Balm
Use this balm for isolated rashes and irritations related to viral, bacterial, and fungal infections or even for chronic skin conditions like eczema and psoriasis. It's entirely chemical-free—just a bit of coconut, neem, cranberry, and essential oils.
Arnica Pain Relief Muscle Balm
Menthol cools and camphorweed relieves inflammation in this chemical-free cream for arthritis and joint pain. You can even include it in your hiking first aid kit to treat muscle aches and bruises. Afterwards, you can reuse or recycle the glass jar it comes in.
Antibiotic
3rd Rock Essentials Nutrasporin
Nutrasporin, the natural alternative to Neosporin, is made with food-grade, edible ingredients instead of toxic chemicals and petroleum. It uses a patented chelated silver oxide that takes away the substrate on which microbes grow, therefore "eliminating the possibility of bad bacteria proliferating without upsetting the ones that maintain your immune system."
Sun and Bug
Chagrin Valley All-Natural Bug Spray
Whereas DEET—the most common active ingredient in conventional bug sprays—is suspected to have carcinogenic properties, this bug spray is 100% organic and made only of bug-repelling essential oils. While warding away insects, it also soothes and softens skin.
Vedic Botanicals Bite Relief
Use this soothing stick on bites and stings. It contains organic and wildcrafted essential oils, sesame oil, and neem, which the brand says helps kill infection and relieve itchiness.
Project Reef Mineral Sunscreen SPF 30
You already know harmful chemicals are rife in conventional sunscreens. Project Reef's SPF-30 mineral formula is made with natural sea buckthorn, aloe, coconut, and reef-safe non-nano zinc.
Mountain Mel's The After Burn
Every first aid kit needs burn relief, and this one by outdoorsy herbal care brand Mountain Mel's is little more than organic aloe, witch hazel, essential oils, and skin-loving vitamin E. According to its maker, The After Burn contains plant extracts—calendula, comfrey, and plantain, specifically—that promote skin cell rejuvenation.
Cold and Sinus
Strong and Minty Propolis Throat Spray
Combat your throat soreness with a potent (and kind of delicious) spearmint spray. Its primary ingredient is propolis, a compound produced by bees that is often sold as a dietary supplement for immune system support.
Tierra and Lava Chest Soother Ointment
This warming balm uses the same active ingredients as Vicks VapoRub—camphor and menthol—to relieve congestion stuck in your chest. The difference is that Tierra and Lava sources its ingredients locally and sustainably from Guatemala (who knows where Vicks' ingredients are from). Though it's advertised as kid-friendly, note that camphor is a controversial ingredient thought to be toxic if inhaled by toddlers. 
Mindful Mixtures Unstuff Breathe Easy
Mindful Mixtures' congestion relief roller is an effective alternative to the balms you're used to. Just apply it to your chest and let the marjoram, thyme, myrtle, and saro get to work. This is also a good camphor-free option.
Plastic-Free Bandages 
Patch Charcoal Bamboo Bandages
One easy way to green-ify your medicine cabinet is to go plastic-free with your bandage supply. Patch is hands down the No. 1 compostable bandage brand, with all sorts of options from aloe-infused to dye-free. These activated charcoal bandages use their hero ingredient to draw impurities like a magnet.
How to Know Which Care Products Are Safe and Effective
There's no guarantee that a first aid or wellness product is safe—even if it claims to be "natural"—because of lax FDA regulations. The only way to evaluate the toxicity of a product is to examine the ingredients list and make the call yourself.
There is also much debate about the efficacy of naturopathy. That is to say: Reducing your personal care to natural therapy exclusively may not be for you. Some situations call for more powerful (often chemical) solutions.
Talk to your doctor before using alternative solutions for chronic conditions and, of course, stop use of any product that causes skin irritation or other side effects. Natural ingredients are just as likely as chemical ingredients to cause allergic reactions.
Sources