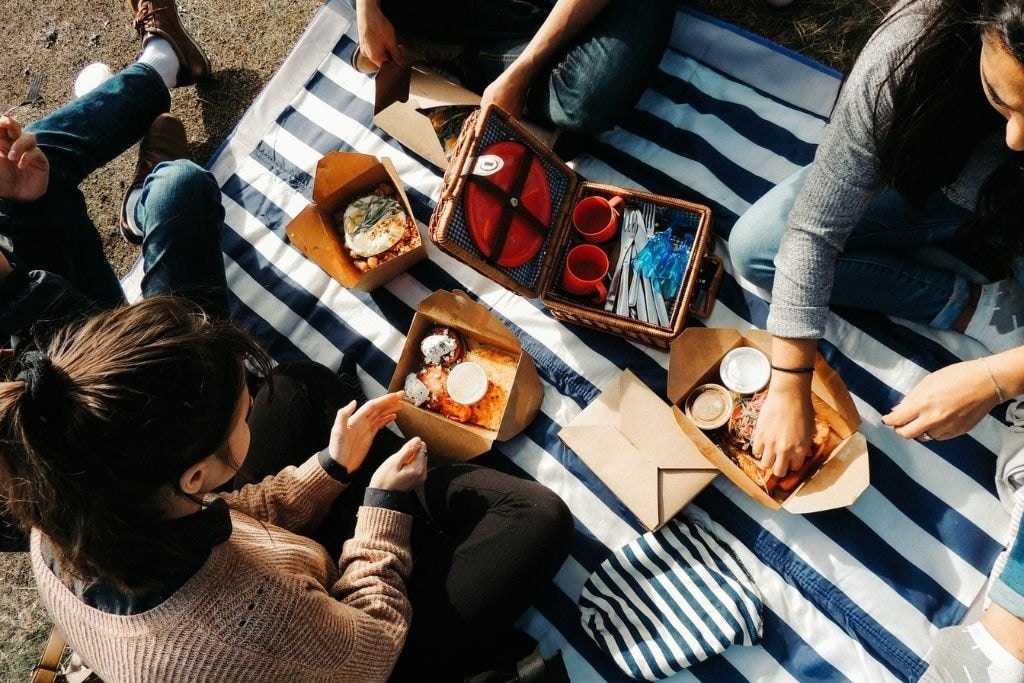 Nothing cultivates the ultimate chill session quite like fluffy blankets, Netflix, and a sneaky takeout from your favorite restaurant on the way. The rapid growth of food delivery services has made ordering food more accessible than ever. From UberEats to Postmates, the endless variety of services allow the fast travel of tasty treats to be only a quick click away.
While a hassle-free and no-fuss way to taste and enjoy gourmet restaurants' exquisite creations is great, what does this mean for the environment?
We'll take you on a guide of the significance of food delivery services and products in relation to the environment and what you can do to get takeout food sustainably.
What Is Sustainable Eating for the Environment?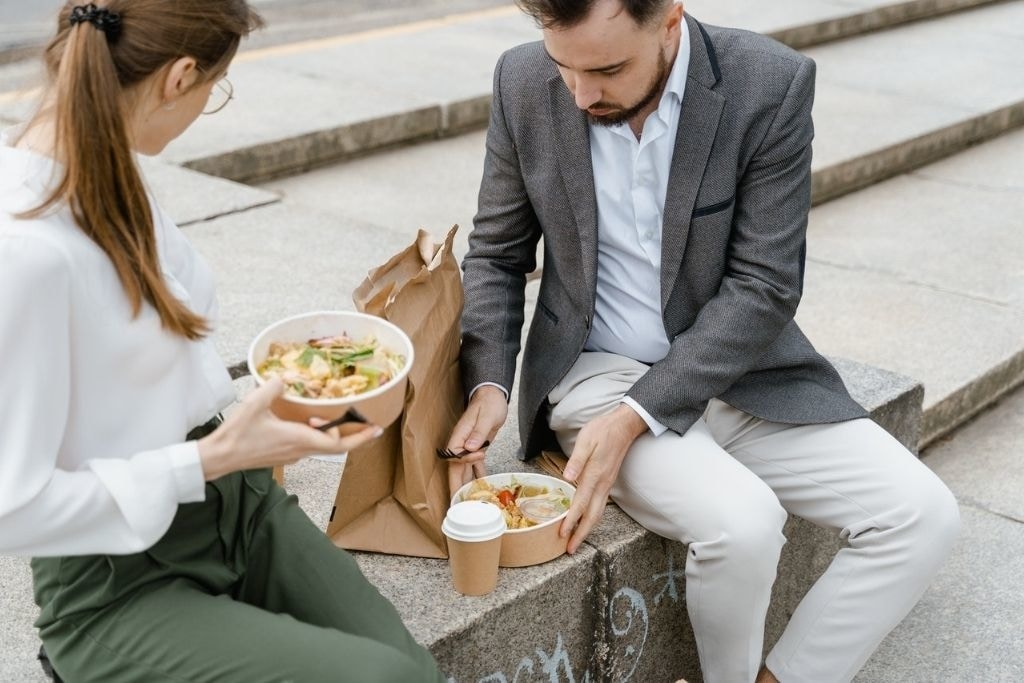 Sustainability often refers to fulfilling your basic needs and habits without leaving the world worse off for future generations. By practicing eco-friendly methods of obtaining your meals, you make a conscious effort to help preserve our planet.
We only have one planet, right? This includes various environmental, economic, and social elements, such as eating less meat and transitioning to a more plastic-free lifestyle.
When we look at sustainable food choices within the home, it needs to include when we order takeout food. Whenever possible, it's important to include looking at how food is produced and packaged as essential parts of reducing your takeout food carbon footprint.
Unfortunately, takeout food often uses excessive packaging that has lasting negative impacts on our environment. This includes materials such as polymer plastic, aluminum, and styrofoam. Depending on where you live, recycling services for these materials may be available, but even in the best scenario, only 9% of all plastic ever manufactured has been recycled.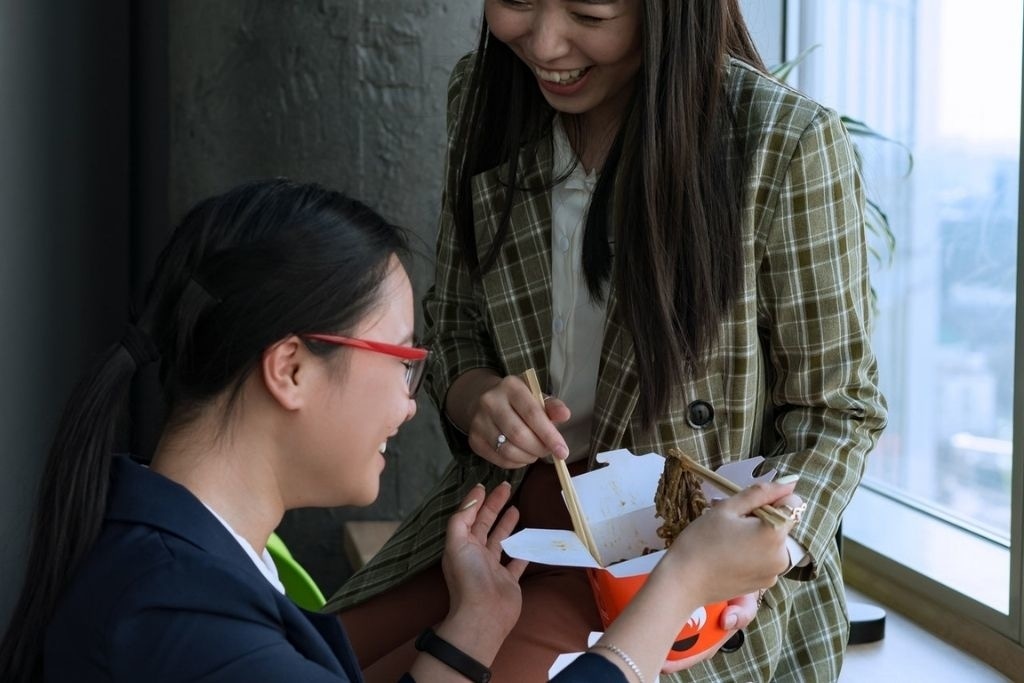 From plastic bags to the number of paper napkins we use (do you really need seven napkins for your small size fries?), takeout food packaging is quite harmful to the planet.
This does not mean you need to completely veto your weekly Sunday dinner ritual. It is, however, important to incorporate some handy tricks if you wish to minimize the impact of takeout orders and practice some sustainable eating habits.
Top Tips for an Earth-Friendly Takeout Feast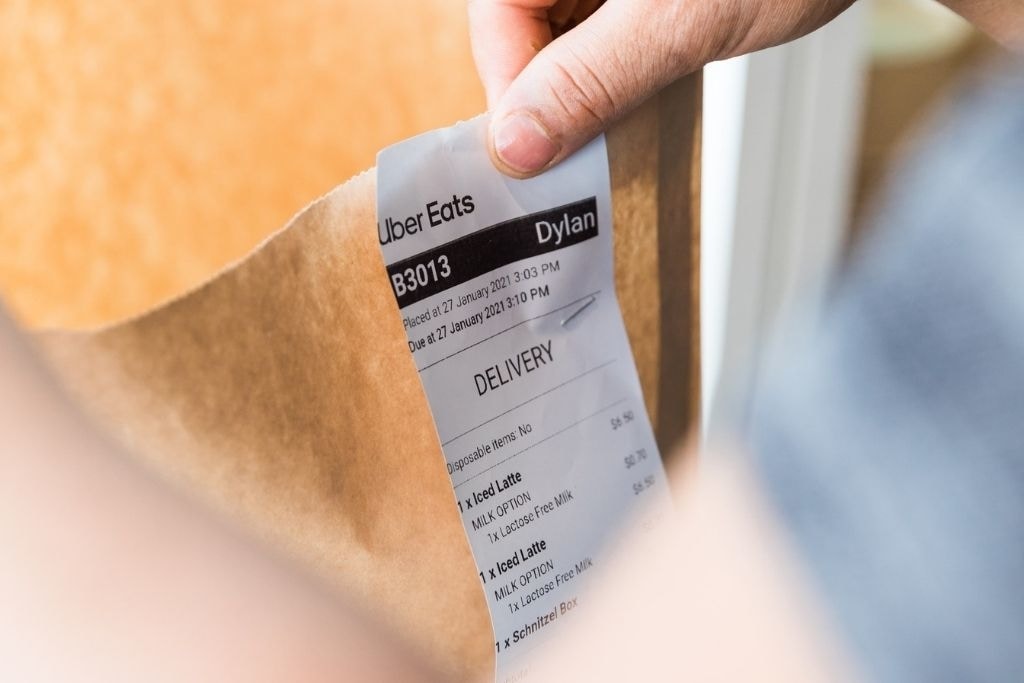 It has been stated that food delivery is a $150 billion industry, and has significantly grown since COVID-19. Thus, it's become more important than ever to be more aware of how to eat sustainably.
Get your reusable knives and forks ready and prepare to dig into the ways in which you can cut down on your food delivery carbon footprint.
Refuse and Reduce Takeout Food Packaging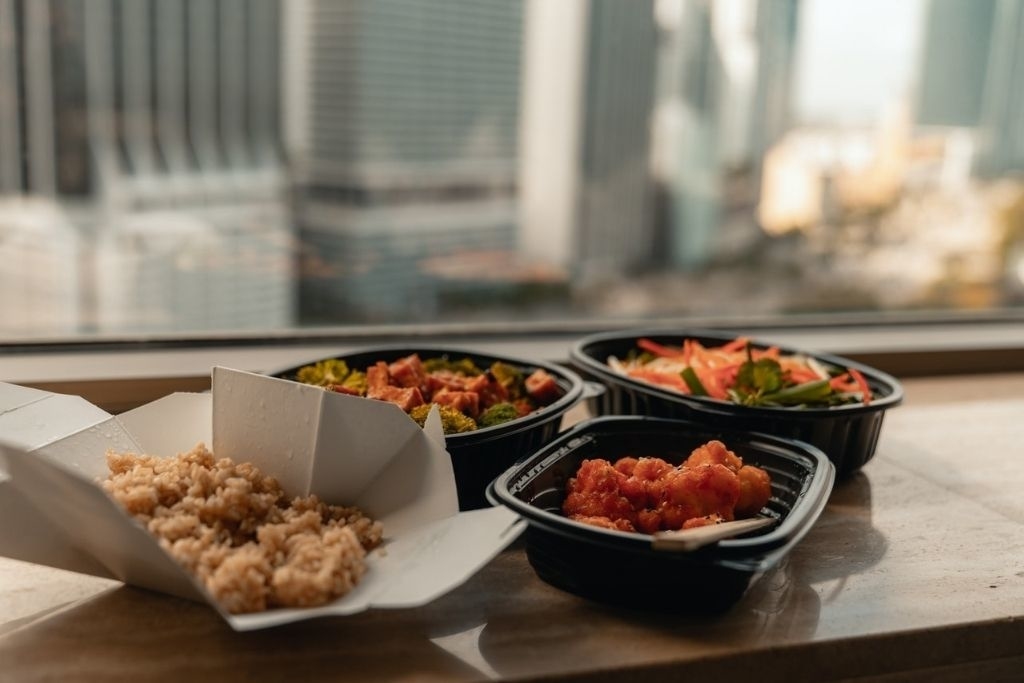 Refuse, Reduce, reuse, recycle — the absolute fundamentals of being a conscious warrior in an often wasteful world.
Plastic straws, the manufactured bane of sea life existence, have long been the poster child for ocean pollution. With an estimate of 8 billion tonnes of plastic drifting in the sea, cutting down on our plastic use any way we can is essential.
Next time you put in a food order, request paper food containers instead of plastic, no cutlery, no straws, no condiment packets, and use a paper versus plastic bag. You can add these notes in the Special Instructions section, or call the restaurant directly. We recommend doing both.
A growing number of food ordering apps require customers to "opt in" to including disposable cutlery, a critical step towards reducing plastic waste.
While many restaurants offer biodegradable plastic and paper options, you can reduce single-use products altogether by instead using your own reusable utensils and napkins. Most of the biodegradable plastic being made does not effectively break down in compost bins. Some bioplastics can break down within a few weeks in the right conditions, but the likelihood of your bioplastic smoothie cup making it to a high heat industrial composting facility is quite slim. Typically this waste is either mistaken for recycling, goes straight to the landfill, or ends up in our ecosystem (sometimes through incineration).
Alternatively – add a touch of luxury to your soft drink with a metal straw and support the impending downfall of plastic straws.
If you're looking for the ultimate eco-friendly food's best friend when ordering takeout, an artisan cutlery set is a perfect item to add to your Holiday wishlist. The kit includes a bamboo straw and reusable chopsticks to up your takeout game like never before.
Reduce Food Waste
When ordering your favorite meals, often with a hungry eye, we can be tempted to order huge amounts of dishes.
Based on the USDA's Economic Research Service estimation, around 30-40 percent of man-made food is wasted in the United States. This makes knowing your limits regarding food very important.
If you feel like you simply can't finish off those last few dumplings, don't toss them in the trash. Place them in the fridge or freezer for a tasty treat later. Your late-night cravings will thank you!
Minimize Ordering Seafood on the Red List
While ordering seafood, we often forget the dire consequences of declining fish and marine life populations. Fish species can appear on the endangered aquatic list for a lot of reasons, from climate change, to ocean pollution, to overfishing.
Monterey Bay Aquarium Seafood Watch is an important resource to utilize when choosing which seafood to consume. Next time you're picking out a seafood dish, take an extra minute and reference which species to avoid, which are good alternatives, and which are the best choices.
Minimize (or eliminate) Orders That Include Meat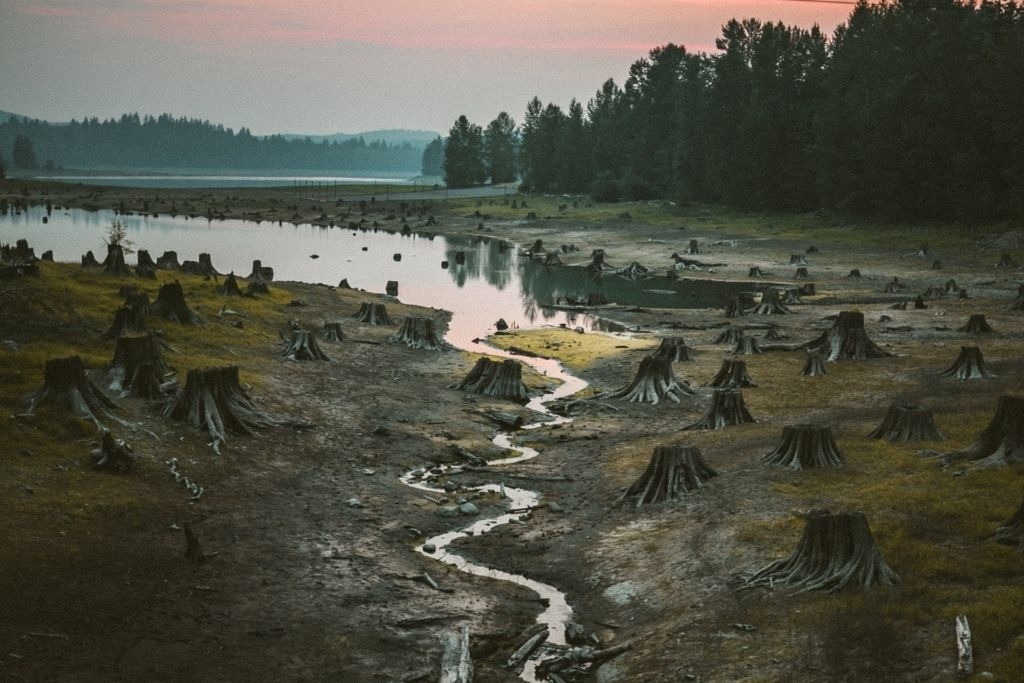 By cutting down on meat consumption, you're lowering your own personal contribution to climate change in a major way.
"Our passion for meat involves over 60 billion land animals that require nearly half of all agricultural land for food and pasture. Livestock emissions, including carbon dioxide, nitrous oxide, and methane, are responsible for an estimated 18 – 20 percent of greenhouse gases annually, a source second only to fossil fuels. If you add to livestock all the other food related emissions – from farming to deforestation to food waste – what we eat turns out to be the number one of the greatest causes of global warming." – Paul Hawkins, Drawdown.
In conclusion – curbing your meat consumption is critical to addressing climate change, and being a sustainable consumer.
Do Your Research on the Company You're Supporting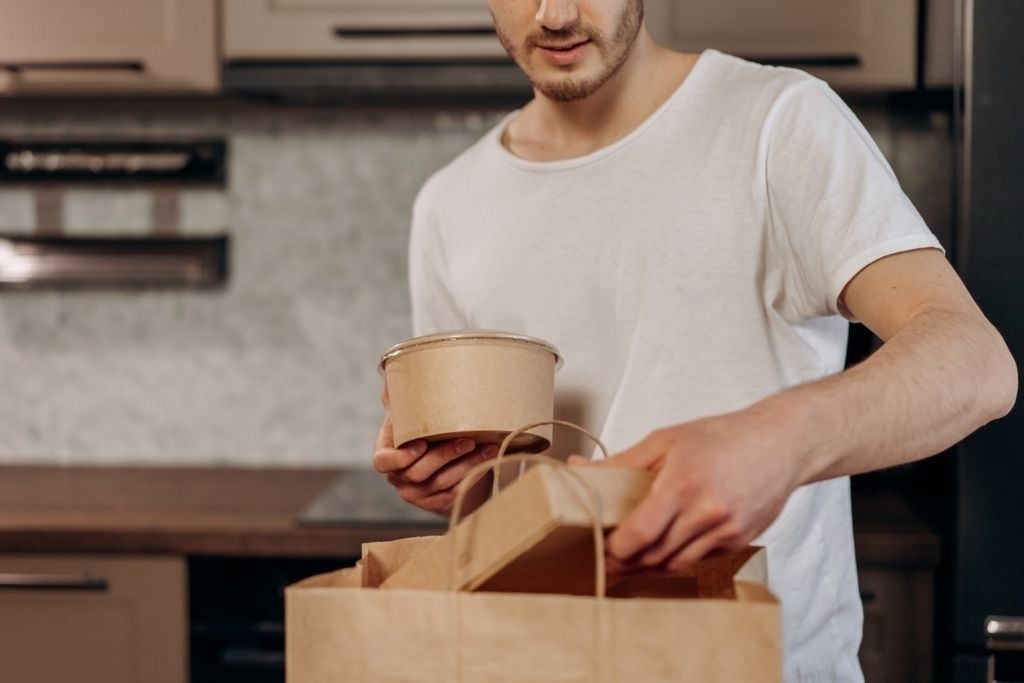 An essential part of eating sustainably is knowing which company to order from. While some restaurants might have the most delicious food, take a glance at their website and see if they highlight any eco-friendly or social good practices in their production.
By doing your research and answering these simple questions, you'll have ample information to make your decision:
Are they an ocean-friendly restaurant?
Do they use biodegradable packaging and/or allow you to easily avoid cutlery?
Do they have any social good initiatives that give back to their community?
Do they offer organic, locally sourced, or seasonal ingredients on the menu?
Do they have any green certifications?
Final Thoughts on Eco-friendly Takeout – Eating for the Planet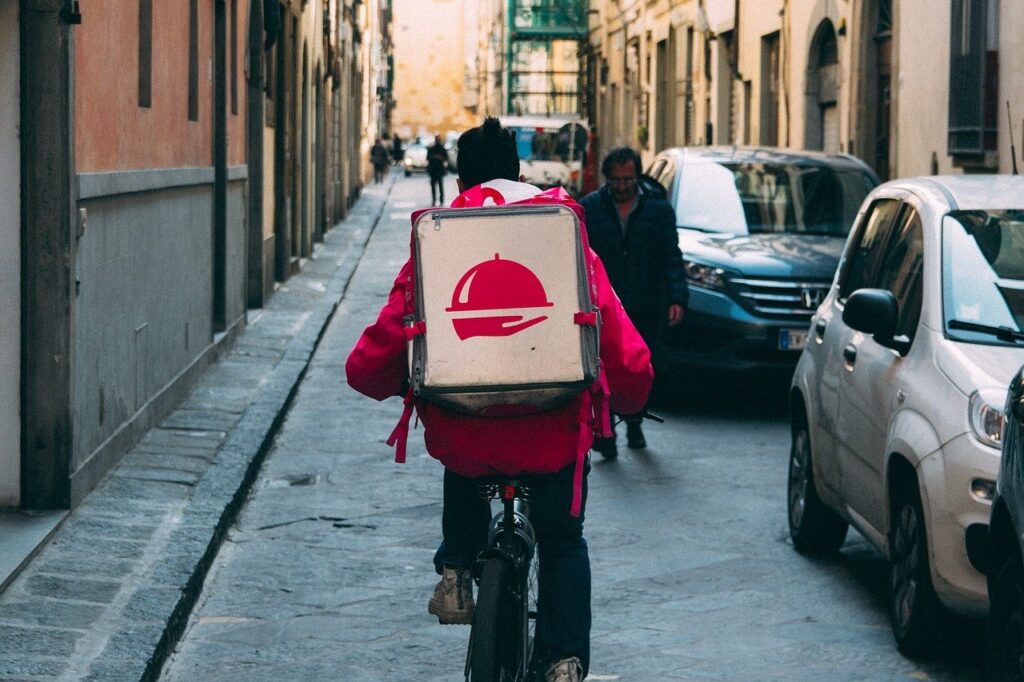 Sometimes nothing tastes better than something we haven't cooked ourselves. By adding an eco-conscious twist to your weekly (or daily, we don't judge) takeout order, you can help alleviate the strain it places on the environment.
While you might be thinking, 'what difference can one person make? It's the collective actions and voices of individuals like YOU that create lasting change for our people and planet.